Buçaco (Bussaco), Portugal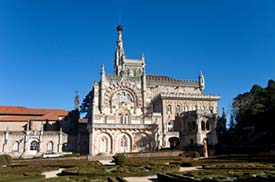 ABOVE: Palace Hotel do Bussaco.
By Durant Imboden
No tour of Northern Portugal is complete without a visit to Bussaco, a mountain forest located just northeast of Coimbra on the way to Viseu. Bussaco (sometimes spelled "Buçaco") is a delightful refuge of cypress groves, ferns, statues, fountains, and formal gardens. It's also home to the Palace Hotel do Bussaco, which may be Europe's best value in a grand hotel.
1,400 years of forestry
The Bussaco Forest was first settled by Benedictine monks in the 6th Century. Later, it was administered by priests from Coimbra Cathedral, and a Papal edict of 1622 declared that women entering the forest would be excommunicated.
The Discalced Carmelites, an order of barefooted monks, took over in 1628. They built a monastery and surrounded the 250-acre (105-hectare) forest with a wall. Over the centuries, the monks and the government foresters who succeeded them have planted nearly 400 Portuguese varieties of trees, shrubs, and flowers while importing some 300 species from as far away as Mexico, Chile, and Japan.
From battleground to public park
In 1810, 66,000 French troops attacked the Duke of Wellington and his army of British and Portuguese soldiers during the unsuccessful Napoleonic invasion of Portugal. The forest survived, and so did the monastery--although it fell into government hands in 1834, when monasteries were abolished throughout Portugal.
Later in the 19th Century, the Portuguese royal family commissioned an Italian operatic scene painter and architect to build a summer palace and hunting lodge in the Bussaco Forest. The building (see photo above) was completed in 1907, shortly before the assassination of the king and crown prince. The king's Swiss chef obtained government permission to turn the palace into a hotel in 1910, and guests have been wallowing in pseudo-Manueline architecture and Edwardian comforts ever since.
Next page: Attractions at Bussaco
---
---
---
Photo copyright © Luis Pedrosa.
---
"Best of the Web"
- Forbes and The Washington Post
---
Advertisement:
---

Need a car in Europe?
If you live outside the EU, a tax-free Renault or Peugeot tourist car lease can be cheaper than renting for visits of three weeks or longer. Minimum driver age is 18, there' s no upper age limit, and rates include insurance.
---
Auto Europe makes it easy to find the best car and motorhome rental rates in more than 20,000 locations.