Schengen Zone
25 European countries without borders between them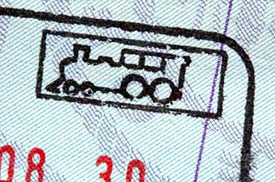 ABOVE: When you arrive from abroad, your passport stamp will indicate the mode of transportation that you used to enter the Schengen zone. INSET BELOW: A sign at Amsterdam's Schiphol Airport, and a passport-control booth.
By Durant Imboden

The Schengen zone, also known as the "Shengen area," is a large swath of Western, Atlantic, and Eastern Europe where internal borders have been eliminated. Once you enter any of the countries that have signed the Schengen Agreement of 1985, you can cross into other countries of the Schengen zone without showing your passport. (However, police can still ask to see your papers when you're in a country, and local laws governing residency and work permits still apply.)
As a practical matter, the Schengen Agreement means that you can save time when going from country to country within the Schengen zone, and--if you're from a country whose citizens require visas in Europe--a single "Schengen Visa" will let you travel freely within the zone's 25 countries up to 90 days. (For more on visa requirements, see page 2.)
Countries in the Schenzen Zone:
Most countries in the Schengen zone belong to the European Union, but some (such as Switzerland) are from outside the EU. What's more, some countries that are in the EU (such as Britain) aren't part of the Schengen area. This means that, for example, you'll need to go through passport control if you're going from Glasgow to Amsterdam by air or from Paris to London on Eurostar.
As of spring, 2009, the 25 fully-implemented members of the Schengen zone included Austria, Belgium, the Czech Republic, Denmark, Estonia, Finland, France, Germany, Greece, Hungary, Iceland, Italy, Latvia, Lithuania, Luxembourg, Malta, the Netherlands, Norway, Poland, Portugal, Slovakia, Slovenia, Spain, Sweden, and Switzerland. For details, see the links on page 2 of this article.
What to expect on arrival: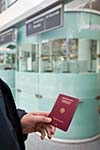 If you're arriving in the Schengen zone from a non-Schengen country (such as Britain, Ireland, or the United States), you'll need to go through passport control. (International airports in Europe typically have separate "Schengen" and "non-Schengen" concourses or terminal wings.) Similarly, if you're going from the Schengen zone to a non-Schengen country, you'll need to show your passport.
Customs regulations may also apply: Between EU countries, there's no need to make a customs declaration, but not all Schengen countries belong to the EU. If you're in an airport or ferry terminal, just follow the exit signs, which will take you through customs if necessary. Use the red customs line if you have foreign purchases to declare, or the green line if you don't.
Next page: Web links, Schengen Visa
---
---
Top photo copyright © Brandon Laufenberg.
1st inset photo copyright © Robert Van Beets.
"Best of the Web"
- Forbes and The Washington Post
---
Our most popular topics:
---
---
See more, spend less:
---

Need a car in Europe?
Auto Europe guarantees the lowest rental rates for standard cars, sports cars, SUVs, luxury cars, chauffered sedans, and RVs. Its Web site also has driving information for 38 countries.
If you live outside the EU, a tax-free Renault or Peugeot tourist lease can be cheaper than renting. Minimum driver age is 18, there' s no upper age limit, and rates include insurance. See: Short-term car leasing.
---

Traveling by train?
Rail Europe
has free schedules, maps, and guides for 50+ European railroads.
---