Stockholm Ferries and Boats
From: Stockholm Transportation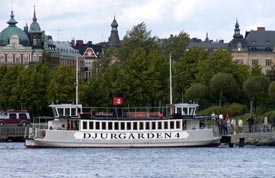 ABOVE: A vintage Djurgården ferry loads passengers at Skeppsholmn. INSET BELOW: The historic excursion boat S.S. Stockholm.
Ferries
Stockholm is a maritime city, and--especially during the summer season--ferries offer convenient shortcuts between its major islands.
In the city center, you'll see antique Djurgården pedestrian ferries zigging and zagging through the harbor almost constantly. These antique ferries carry some 2.4 million passengers a year, primarily in summer.
The Djurgården-Skeppsholmen-Slussen line operates year-round. From mid-May through mid-August, ferries also run at 20-minute intervals between the main Djurgården pier, the Vasa Museum, and Nybroplan near downtown Stockholm. This route operates on weekends only during early May, late August, and September. Fares are rather steep, but you can ride free with an SL travel pass.
Other ferries serve the suburbs or towns in the archipelago of 28,000 islands between Stockholm and the Baltic Sea. For timetables and other information, see Fjäderholmslinjen and Waxholmsbolaget.
Sightseeing and excursion boats
The harbors of Stockholm are jammed with excursion boats of every variety, from historic steamers to modern tour boats.
Strömma offers a good selection of boat tours, including a "hop-on hop-off boatseeing" services. Some tours are available free or at a discount with the Stockholm Card.

Stockholm Card buyers also get a discount on Strömma Kanalbolaget sailings to Drottningham Palace. Strömma Kanalbolaget also has archipelago tours aboard the 1912-vintage Gustafsberg VII, brunch cruises on the steamboat S.S. Stockholm (see photo), a full-day "thousand islands" cruise with the Waxholm III, and other sailings. (I enjoyed the Stockholm cruise during a September, 2004 visit; the three-hour roundtrip to Waxholm included a smorgåsbord-style buffet.)
Cinderella Båtarna uses modern, multi-deck boats on its excursions to various towns in the archipelago. In December, it sails to the Christmas fair in Utö and has twice-daily Christmas Buffet sailings in the first half of the month.
Finally, Waxholmsbolaget (already mentioned under "Ferries" above) offers both transportation and excursions on its fleet of classic steamers, fast ferries, and year-round vessels.
Next page: Driving and parking
---
---
---
---