Niesenbahn
(Bernese Oberland)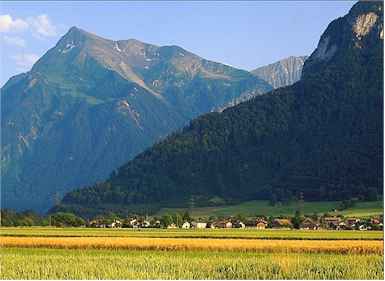 ABOVE: The Niesen is a massive pyramid that rises above Lake Thun and nearby grain fields.
The Bernese Alps are dotted with mountain railways, cable cars, and funiculars. Some, like the Jungfraujoch Railway and the Schilthorn cable car, are mentioned in every guidebook; others, like the Stockhornbahn, are unknown to most English-speaking tourists.
The Niesenbahn, a funicular on a 2,262m (7,749-ft) mountain overlooking Lake Thun, falls into the latter category even though it's been in operation since 1910. But make no mistake: the mountain offers spectacular views in all directions. Best of all, tickets are at least 50% cheaper than more famous excursions.
The Niesenbahn
The funicular is called the Niesenbahn, and it's open from early May through mid-November. Funiculars depart at regular intervals from the valley station between 8:00 a.m. until 5:10 p.m year-round, with additional evening departures on Wednesdays and Sundays at certain times of the year. The funicular takes 28 minutes to reach the summit.
Options include fares to either of the two intermediate stations and a "Wanderbillet" that lets you hike between any two stations on the way up or down. If you're ambitious, you can walk downhill from the summit to Frutigen (a popular resort in the Lötschberg region) in about four hours.
Berghaus
A mountain inn built in 1856, the Berghaus Niesen Kulm, offers snacks, meals, 35 dormitory beds, and seven hotel rooms. The hotel is now smoke-free. For information on accommodations and meals, see the Niesenbahn's Web site (link on next page).
Advance tickets and reservations
To order funicular tickets, book an Abendfahrt, or reserve an overnight hotel package ahead of time, use the Niesenbahn's online booking form.
More information and Web links