Emerald Star Cruise Photos
From: Emerald Waterways cruise review: Nuremberg-Trier
Day 5: Rhine & Koblenz (4)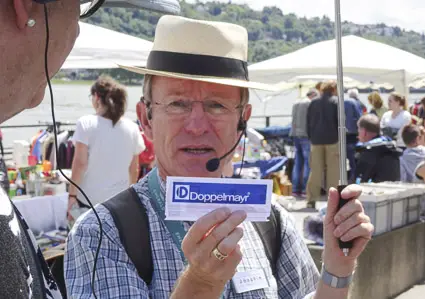 At 2 p.m., we went ashore and joined a group for a walking tour of Koblenz. Our guide, Joachim, looked natty in his straw hat.
---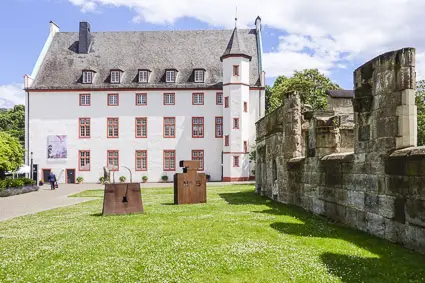 One of our first stops was the Deutschherrenhaus (now the Ludwig Museum of Koblenz) which once belonged to the Teutonic Order, also known as the Teutonic Knights, a Catholic religious and military order dating back to the 12th Century.
---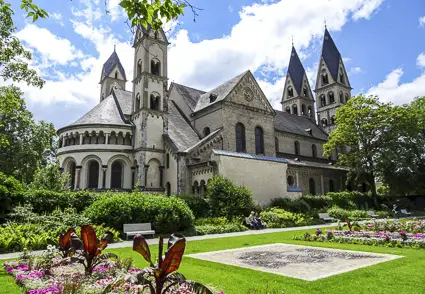 From the Deutschherrenhaus, it was only a short walk to the Kastorkirche, or St. Castor's Basilica, which is the oldest church in Koblenz.
---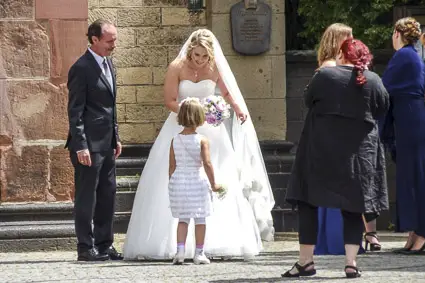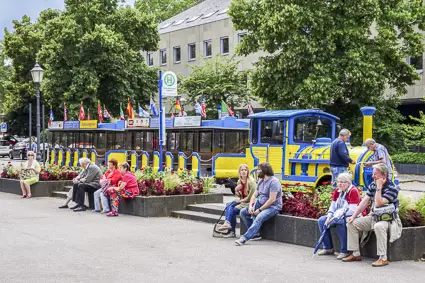 A wedding was just wrapping up as we approached the church, and a tourist train waited to take guests to the reception.
---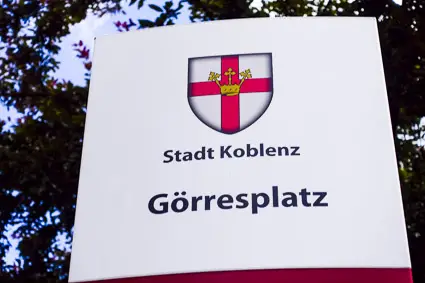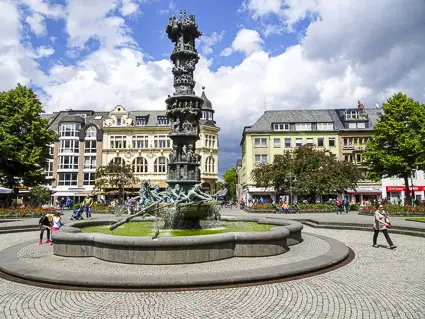 Our tour included a visit to the Görresplatz, a square that is said to have been settled since Roman times.
---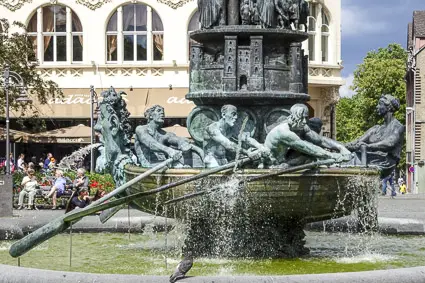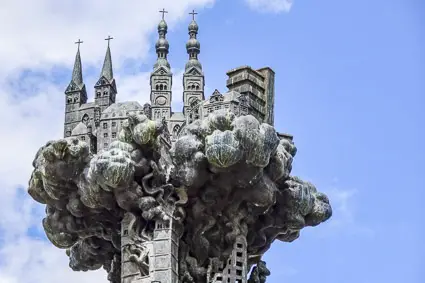 The square's centerpiece was the Historiensaeule, or History Column, by Jürgen Weber, which was installed in 1992. The bronze column rises from the central fountain of the Görresplatz and chronicles the history of Koblenz from Roman times until the city's rebirth after the destruction of World War II.
---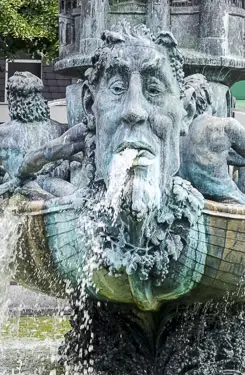 The History Column and the fountain are well-integrated. (This sculpture could be labeled "The face that launched a thousand spits."
---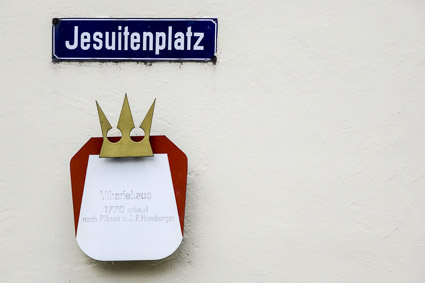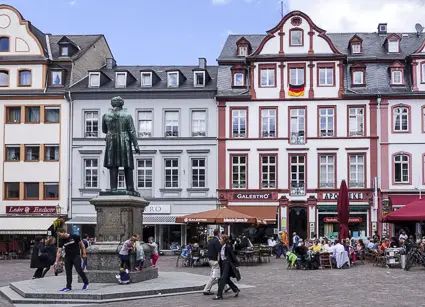 From the Görresplatz and its fountain, we walked to the Jesuitenplatz, where (to judge from the shops and cafés) God and Mammon had reached a state of peaceful coexistence.
---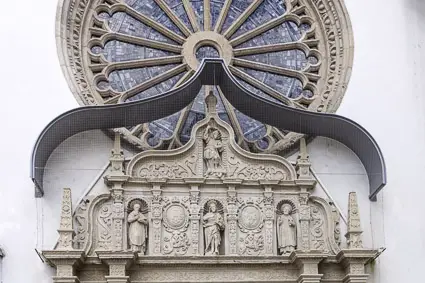 The Jesuitenkirche or St. Johannes der Täufer (a.k.a. the Jesuit Church) had a deceptively simple appearance until we looked closely at the portal with its carvings of St. Michael, St. Ignatius of Loyola, St. John the Baptist, and St. Francis Xavier.
---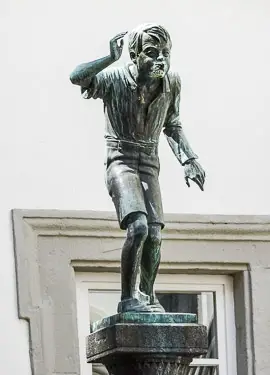 Nearby, the Rathaus or Town Hall featured a fountain, the Schängelbrunnen, which spits a water stream at regular intervals (soaking unsuspecting passersby).
The character atop the fountain is a Schängel, or Franco-German child, from the 20-year period (1794-1813) when Koblenz belonged to France.
---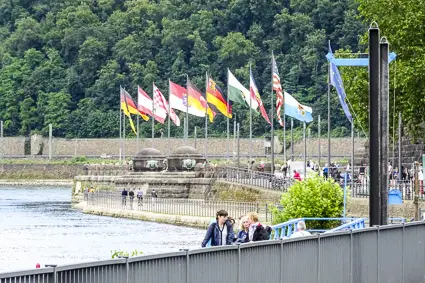 After getting an overview of downtown Koblenz, we walked a few blocks to the Moselle riverfront and headed toward the Deutsches Eck ("German Corner"), where the Moselle discharges into the Rhine.
---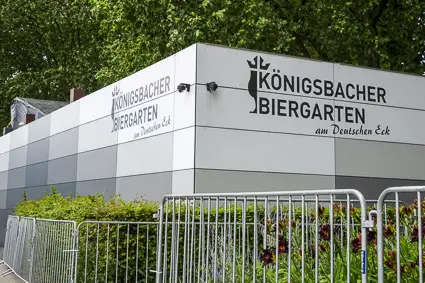 We passed a beer garden that was setting up for a televised match between Germany and Italy in the 2016 UEFA EURO football tournament.
---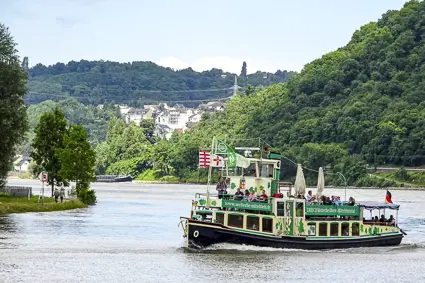 On our left, a local sightseeing boat cruised into the Moselle from the Rhine.
---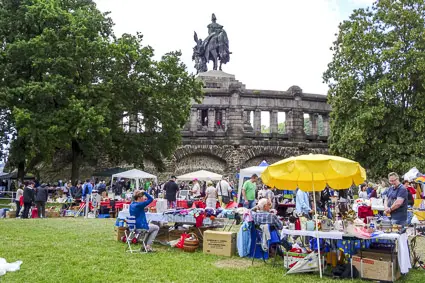 The municipal flea market had spilled from the Rhine waterfront onto the Deutsches Eck.
---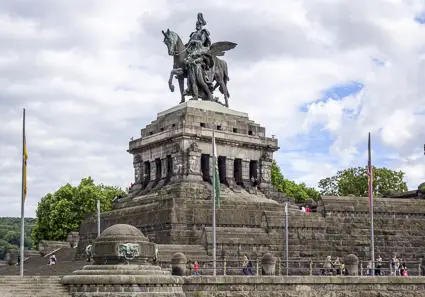 The equestrian statue of Kaiser Wilhelm I at the Deutsches Eck is a modern replica of the original, which was damaged by U.S. artillery fire in World War II. (See Wikipedia's article for details.)
---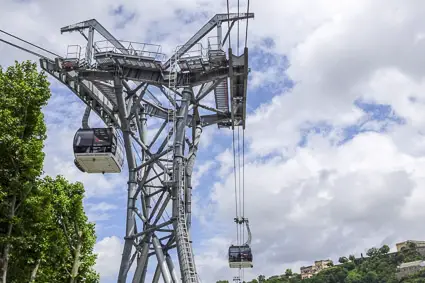 Having paid our respects to the late emperor and his horse, we walked to the Seilbahn Koblenz for a five-minute trip across the Rhine to the Ehrenbreitstein Fortress.
---
---
---
---