Emerald Star Cruise Photos
From: Emerald Waterways cruise review: Nuremberg-Trier
Day 7: Trier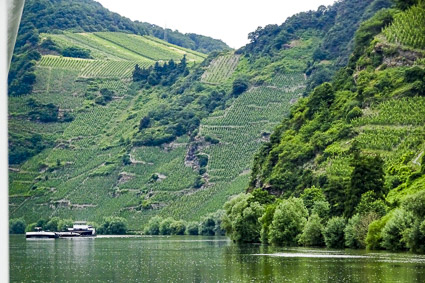 The last full day of our cruise began with the departure of Emerald Star from Bernkastel around 6:45 a.m. We were still in bed, and by the time we got up, the ship was cruising past more hillside vineyards on its way to Trier.
---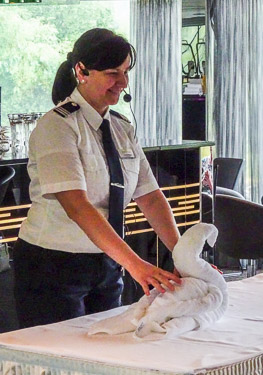 At 10 a.m., Cecelia Balint--the ship's head housekeeper--presented a towel-folding demonstration where passengers could learn how to make swans and other critters from bathroom linen.
---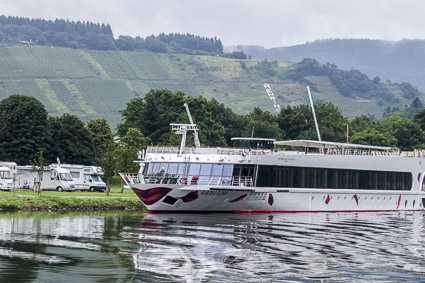 A-Rosa Flora, which had been tied up behind Emerald Star in Bernkastel-Kues, was moored on our starboard as we passed one of many small caravan parks along the Moselle's banks.
---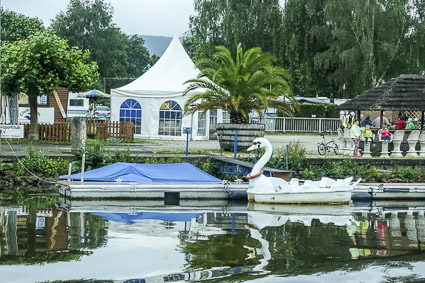 We'd seen swans throughout the cruise. As we went past a marina, we saw a paddleboat in swan's clothing.
---

We arrived at Hafen Trier, or Trier Harbor, at 12:15 p.m.
The port in Trier was purely industrial, as you can see in this panorama from the Sun Deck that was taken during our arrival. (Click here and maximize your browser window for a larger image.)
The captain explained that the industrial harbor was as far upstream as the ship could go on the Moselle.
---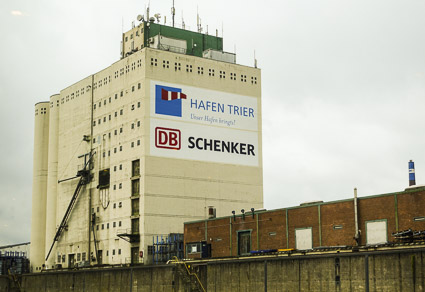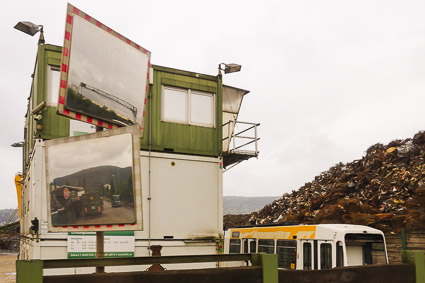 A cargo terminal of DB Schenker (Deutsche Bahn's logistics business) was on our right, and a scrapyard lay ahead of us as we entered the Hafen Trier. We were reminded of the time when our car broke down in rural Colorado and was towed to a junkyard for servicing.
---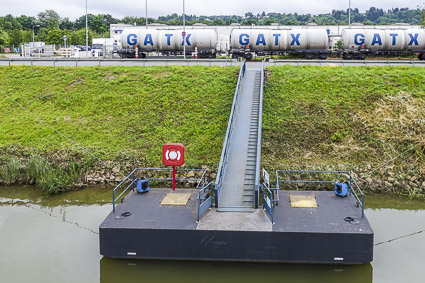 Although the harbor was industrial, it did have at least one pontoon and gangway for visiting passenger ships.
---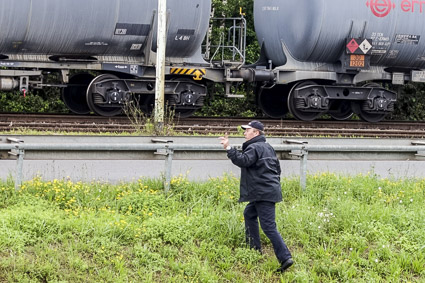 Captain Mariceanu, never one to stand on ceremony, went ashore and climbed a grassy tank to supervise final mooring operations.
---

Tank cars provided a scenic backdrop. (For a larger panoramic image, click here and maximize your browser window.)
---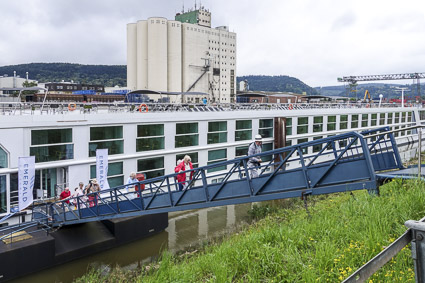 After lunch, Emerald Star's passengers went ashore for a bus and walking tour of Trier, which was a 15-minute drive from the port.
---
---
---
---