Antler Size Zero Cabin Suitcase
Page 3
Continued from page 2
By Durant Imboden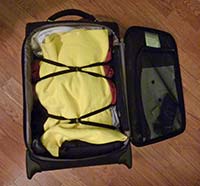 ABOVE: Antler's Size Zero Cabin Suitcase, packed with enough clothing, toiletries, and other items for an eight-day trip.
Field report
A few weeks after receiving the Size Zero Cabin Suitcase from Antler USA, I used the bag for a transatlantic trip to Rome, Italy. It was noticeably smaller than my other two carry-ons, since it was designed for international travel. (Allowable dimensions on European and Asian airlines are often smaller than those on U.S. airlines.)
Despite the bag's compact size, I was able to pack it with:
A pair of trousers

Two drip-dry shirts

Underwear and socks in nylon packing cubes

A wool blazer

A hanging toiletries kit

A guidebook and maps

Alarm clocks, spare shoelaces, and other small travel accessories.
On the flight home, I squeezed in more books, a large plastic envelope of travel literature, and a few extra items without overloading the suitcase.
I appreciated the Size Zero's light weight when I took a city bus and light rail to my home airport, and when I later carried the bag on commuter trains and a tram in Rome and Civitavecchia, Italy. The suitcase was so light that I didn't bother extending the handle much of the time--I just carried the packed bag by the comfortable handle.
To give the Size Zero Cabin Suitcase a more demanding test, I checked it on my multi-leg transatlantic flights through New York's JFK and Amsterdam's Schipohl airports. It arrived unscathed, except for a few scuffs to the nylon. However, the TSA-approved padlock got stuck under a luggage belt at Rome's Fiumicino airport and needed to be pried out by an employee who was monitoring the conveyor. (This apparently happens fairly often with luggage padlocks of all types and brands.)
Verdict:
The Antler Size Zero Cabin Suitcase is the perfect bag for a weekend trip, or even for a longer vacation if you can discipline yourself to travel light.
If you can't resist the urge to pack heavy, Antler's larger Size Zero suitcases may be worth considering. For example, the Size Zero Medium Suitcase (a fairly enormous 68 cm, or 26.75 inches in the longest dimension) weighs only 3 kg or 6.6 pounds. The savings in weight can be important with a larger suitcase, since many airlines charge high fees for overweight bags.
Finally, Antler's latest range of lightweight products--the Duolite Hybrid brand--sounds interesting. Duolite suitcases are soft on the front, hard on the back, and even lighter (by a few ounces or grams) than the Size Zero soft-sided bags. We haven't tried the Duolite suitcases, but they sound like a diplomatic compomise for travelers who can't choose between hard- and soft-sided luggage.
Follow-up (one year later)
After several trips with the Size Zero bag, the telescoping handle began to stick, and it was difficult to open fully. One day later, something inside the handle mechanism failed completely, and it was impossible to extend the handle beyond the first (half-extended) position.
I unzipped the bag's liner to see if I could repair the handle, but no such luck: The telescoping mechanism's stops were hidden inside the metal tubing, and there was no way to access them.
Fortunately, the bag's small size and light weight meant that I could carry it (and its contents) to the railroad station without much strain, but I was disappointed that the telescoping mechanism had broken after less than a year of infrequent use.
Web links:
For more information on Antler luggage, visit the Antler Web site.
Back to: Antler Size Zero Luggage - Introduction
---
---