Antler Size Zero Luggage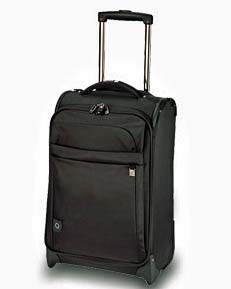 ABOVE: An exterior view of the Antler Size Zero Cabin Suitcase.
By Durant Imboden
The root of "luggage" is "lug," and most travelers know what that means. Anyone who's old enough to remember the days of leather suitcases (or even first-generation Samsonite) will appreciate the far lighter weight of today's softsided upright bags.
Still, lightness--or the lack thereof--is a relative thing. It isn't unusual for a well-constructed 22" (56 cm) carry-on to weigh nearly 4.5 kilos or 10 pounds. That's all right if you're traveling by train or car, but if you're flying, you may be forced to check your suitcase--and pay a hefty fee--if the weight of your bag exceeds the carry-on weight limits.
Just do the math: Ryanair has a weight limit for cabin baggage of 10 kg or 22 pounds. Lufthansa's is even lower at 8 kg or 17.6 pounds. If your suitcase weighs nearly half that amount, you'd better not pack a hardcover edition of War and Peace with your clothing and toiletries.
An antidote to excessive baggage weight: Antler's Size Zero
In 2010, Antler--a well-known British luggage manufacturer--introduced a line of ultra-lightweight wheeled upright suitcases under the "Size Zero" name. The bags were designed to eliminate unnecessary weight without sacrificing strength.
Antler USA sent me a 55 x 35 x 23 cm (nominally 22") Size Zero Cabin Suitcase for evaluation and testing. You can read about my first impressions of the bag, a field report from a transatlantic trip, and a follow-up about the handle mechanism's subsequent failure on the next two pages.
Next page: First impressions
---
---