Bruges (Brugge)
Travel and Tourist Information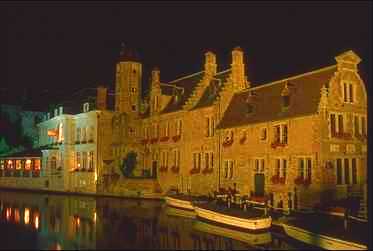 ABOVE: Bruges (Brugge), Belgium at night.
By Durant Imboden
Bruges, or "Brugge" to the Flemish-speaking locals, is one of the best-preserved medieval cities in Northern Europe. This description of the city, published more than 80 years ago in Muirhead's Guide to Belgium and the Western Front, is still valid today:
"The beauty of its buildings gives Bruges a high place among those European towns that have preserved their mediæval aspect, and it is renowned for the wealth of its art treasures, which include several masterpieces of Flemish painting. More than fifty bridges (from which the name of the town is derived) span the various canals; and rows of gabled houses, mirrored in calm water, afford many charming perspectives. Some of the picturesque buildings prove, on closer approach, to be modern antiques in a style of somewhat facile quaintness; but enough of the older mansions remain to carry the traveler back in imagination to the age of the Counts of Flanders and the Bergundian dukes."
Quaintness and popularity go hand in hand, as you'll discover if you join the other tourists who flock to Bruges during the summer season. Still, crowds are the price you pay for not vacationing in Wichita. And look at it this way: While you're muttering about the ubiquitous backpackers with their iPods and Let's Go! paperbacks, the retired academics with their Blue Guides, and the platoons of group tourists with their American Express nametags or Rick Steves guidebooks, they're probably wishing you'd gone to Blackpool or Disney World.
Click now, travel later
This 8-page Bruges/Brugge Web Guide has links to dozens of Web sites that can help you plan a holiday in "the Venice of the North." Use the navigation table at the bottom of each page to find general tourist information, Web pages on specific sights, photo albums, hotel and hostel listings, and details on short-term house and apartment rentals.
Next page: Tourist information
---
---