Europe > Transportation > Rail travel > Eurostar & Le Shuttle
Eurostar & Le Shuttle
Also see: Eurostar London-Paris-London (Paris for Visitors)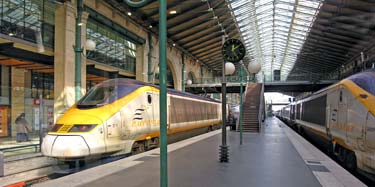 ABOVE: Two Eurostar trains in the Gare du Nord, Paris.
Also see: Eurostar London-Paris-London - a first-hand report
By Durant Imboden

If you saw the film Mission Impossible, you've already seen Europe's "Chunnel" passenger train in action. In that movie, Tom Cruise fended off a helicopter from the Eurostar's roof until the chopper blew up inside the English Channel Tunnel.
Most Eurostar trips are less dramatic. More than two dozen high-speed electric trains (based on French TGV designs) connect London with Lille, Paris, Brussels, Avignon, the French Alps, and the Disneyland Paris resort at speeds of up to 300 km/h or 186 mph.
Travel time can be as little as 2 hours 17 minutes between London and Paris, or 1 hour 52 minutes on the London-Brussels route. (Trains that stop at Ashford, Lille, and other stations take a few minutes longer.)
A handful of London-Brussels trains continue on to Amsterdam. You can also book travel between London and Amsterdam or Rotterdam with Thalys train connections in Brussels.
A few points worth noting:
Eurailpass isn't valid on Eurostar. However, you'll get a discount of about 20% off the standard fare if you have a Eurailpass, Europass, France Railpass, BritRail Pass, or Benelux Tourrail Pass.
Ride quality is remarkably smooth, even at 186 mph (300 km/h), so nervous travelers should be able to keep their apprehension in check as the train races across the countryside.
Le Shuttle, the train that carries automobiles under the English Channel, uses the same tunnel as Eurostar but is a separate service. For more information, click the links under "Le Shuttle" below.
Travel planning: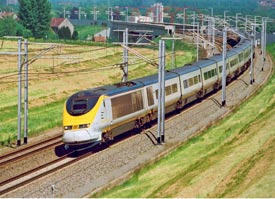 ABOVE: A Eurostar train speeds around a banked curve in the countryside.
Eurostar London-Paris-London parisforvisitors.com
This illustrated report describes journeys in Standard and Leisure Select Class, with information on check-in on both sides of the Chanel. From Paris for Visitors.
Eurostar.com
The official Eurostar site has a journey planner and other useful information, along with an app that you can download to your smartphone.
Background information and photos:
Wikipedia: Eurostar
The online encyclopedia's article is packed with facts, figures, and trivia.
Le Shuttle (car train):
Eurotunnel: Le Shuttle
Load your car, motorcycle, camper, or caravan on Le Shuttle for a 35-minute rail journey under the English Channel between Folkestone, England and Coquelles, France. (If you're traveling with a group, you can even reserve a spot for your tour bus.)