Paris > Transportation > Eurostar
Eurostar
London-Paris-London
Also see: Eurostar article at Europe for Visitors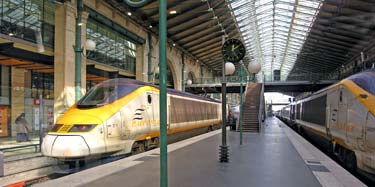 ABOVE: Eurostar trains behind a glass security wall at the Gare du Nord in Paris. INSET BELOW: Eurostar travels at speeds up to 300 km/h or 186 mph.
---
Not long ago, I dug out a 1991 edition of the Thomas Cook European Timetable and checked the railroad schedules for London to Paris. A typical journey lasted anywhere from 6Ĺ to 7ĺ hours, depending on whether the trip involved hovercraft or ferry connections.
Today, thanks to Eurostar and the English Channel Tunnel, the rail journey between London and Paris can be as short as 2 hours 15 minutes. (Some departures take a few minutes longer than the minimum because of stops in Ashford, Calais, or Lille.)
Just as important, traveling by Eurostar is more comfortable--even in the cheapest Standard Class seats--than traveling by air. It's also more convenient, because you travel from city center to city center.

Cheryl and I took Eurostar from London to Paris and back. In this article, I'll describe the trip in detail, to provide step-by-step guidance for first-time travelers on Eurostar between London and the Gare du Nord in Paris.
(Note: The London terminal of Eurostar has moved from Waterloo Station to St. Pancras Station since this article was first published.)
Next page: Eurostar London-Paris
---
---
---
About the author:

Durant Imboden is a professional travel writer, book author, and editor who focuses on European cities and transportation.
After 4-1/2 years of covering European travel topics for About.com, Durant and Cheryl Imboden co-founded Europe for Visitors (including Paris for Visitors) in 2001. The site has earned "Best of the Web" honors from Forbes and The Washington Post.
For more information, see About our site, press clippings, and reader testimonials.
---
Inset photo copyright © Eurostar.