Europe > Netherlands > Floriade
World Expo Floriade Amsterdam Almere 2022
Holland's once-in-a-decade World's Fair of horticulture will run from April to October, 2022, with exhibitions from more than 30 countries.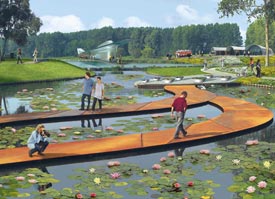 ABOVE: A rendering of the Water Lily Pond at a past Floriade exposition.
By Durant Imboden
Floriade, the World's Fair of horticultural shows, is the largest public event in the Netherlands. The exhibition, which takes place only once every 10 years, will make its third appearance of the 21st Century from April to October, 2022.
The Expo's location will move from Venlo to Almere, a modern "garden city" near Amsterdam that was built on land reclaimed from the sea.
The theme of the show will be "Growing Green Cities"--an appropriate motto, given that the site will become a new urban district named Hortus after Floriade shuts down in October, 2022.
Practical information
Tickets: If history is any guide, you'll be able to choose among single tickets, season tickets, and other options. For details, see the official Floriade Web site (link below) closer to the exposition dates.
Transportation: Before Floriade 2022 begins, information on trains, buses, road access, etc. will be published on the Floriade Web site.
Tours: Many companies will offer Floriade tours and excursion packages. Check with your travel agent, or browse the official Web sites below. (Note: A "Floriade Preview" is on the calendar from April to October, 2021.)
Web links
Floriade.com
Watch the official World Expo Floriade Amsterdam Almere 2022 Web site for information about the horticultural show as it becomes available. Don't miss the preview video on YouTube.
Visit Holland
The Netherlands Board of Tourism has loads of travel information for Europeans and visitors from overseas.
Related resources
Keukenhof europeforvisitors.com
The world's largest flower garden has more than 7,000,000 bulbs, including 1,000 varieties of tulips alone.
Netherlands Articles europeforvisitors.com
Plan your trip with an Amsterdam Web guide, an introduction to Schipohl Airport, and other useful information. (If you have time, plan a visit to Rotterdam, a mecca for fans of modern art and urban design.)
Photos from past Floriade expositions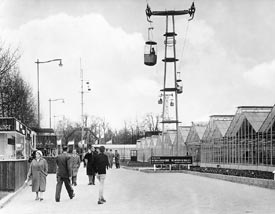 Rotterdam hosted the first Floriade in 1960.
---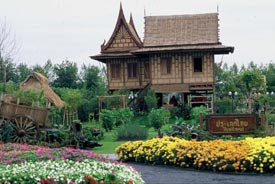 Thai Pavilion from the 1992 Floriade.
---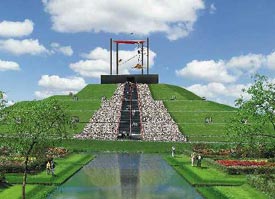 Big Spotters Hill was the literal high point of Floriade 2002, rising 40 meters (120 feet) above the park and the Harlemmermeer countryside.
---
---
Photos: Floriade.