European Vacation Rentals:
A Home Away From Home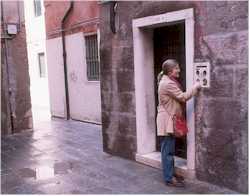 ABOVE: In Venice, our family of five rented a three-bedroom garden apartment behind this doorway for less than US $1,000 a week.
By Durant Imboden
Save money (and feel like a local) with a holiday apartment or cottage in Europe.
Hotels, B&Bs, and pensions are likely to be your accommodations of choice when you're traveling alone or spending only a few days at your destination. But for longer stays, or when traveling a family, there's an even better option: renting a furnished apartment, villa, chalet, or cottage by the week.
Over the years, my family has enjoyed this "self-catering" approach in destinations such as:
Copenhagen: A spacious two-bedroom, two-bath apartment with Danish modern furnishings and patio in a suburban holiday center on the beach.
Freiburg im Breisgau, Germany: Two studio apartments in a modern townhouse near the city center, one with a terrace overlooking a garden and the spire of the nearby cathedral.
Sondervig, Denmark: A modern three-bedroom brick cottage with thatched roof and sauna amid the dunes of Jutland's North Sea coast.
Radstadt, Austria: A vacation cottage with its own garden, close to a dairy farm where we bought fresh milk from the cowherd.
Bornholm, Denmark: A two-bedroom vacation apartment on an island in the Baltic Sea, with horse-riding lessons for our children at no extra cost.
Thun, Switzerland: A lakeside apartment in a medieval town between the Swiss capital of Bern and the Bernese Oberland resort of Interlaken.
More space for less money
---
---