Oceanário de Lisboa
Lisbon Oceanarium
From: Lisbon, Portugal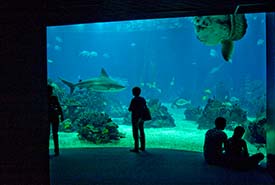 ABOVE: Visitors get face time with fish on the lower level of the Oceanário's huge central tank.
By Durant Imboden

Lisbon is the capital of a nation with a long maritime tradition--and after centuries of dispatching ships across the world's oceans, it's only fitting that Lisbon has now brought the ocean to the city.
The Oceanário de Lisboa, or Lisbon Oceanarium, is is the second-largest aquarium of its kind in the world (and the largest in Europe).

Its more than 16,000 fish, mammals, and other species are housed in a building that seems to float above the water in the Parque das Nacões, or Nations Park, a modern district of Eastern Lisbon that was built for Expo '98. (The Oceanário stands in the Doca dos Olivais, where Pan American's Clipper flying boats were moored between transatlantic flights in the 1930s and 1940s.)

The centerpiece of the Oceanário is a huge two-story tank where small fish, eels, sharks, a giant ocean sunfish, and other creatures swim around a reef without eating each other.
Other sections of the Oceanarium, some of which connect to the main tank, feature sea birds (such as penguins and puffins) and sea otters. It's the kind of place where you can easily spend a couple of hours, even without taking part in special activities such as "Backstage Tours" (45 minutes, most days from 10 a.m. to 4:30p.m.) or "Sleeping with the Sharks" (an overnight slumber party for children or families).
For visitor information and Web links, continue to page 2 of this article.
2nd inset photo copyright © João Saraiva.