Travelpro Crew 5 Luggage Review
Page 3
Continued from page 2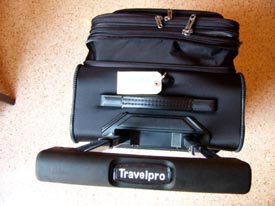 ABOVE: This view of the Crew 5 22" Expandable Rollaboard Suiter shows the bag fully expanded after a shopping spree in Venice.
Field reports
Stockholm, Sweden
In September, 2004, I packed the Crew 5 22" Expandable Rollaboard Suiter for a week-long trip to Stockholm, Sweden. The interior compartments and dividers were a great convenience--especially on the return trip, when I could store press kits, magazines, etc. in a zippered compartment inside the lid and separate my clean clothes from dirty laundry.
The Crew 5 was unscathed after two multi-leg transatlantic flights, and the bag's contents stayed dry on my rainy-day walk from the Hotel Diplomat to the Tunnelbana in Stockholm. Just as important, the 22" bag's modest external dimensions made it easy to use on public transportation (subway, light rail, and buses) at both ends of my journey.
My favorite feature was the snap-out toilet kit/suitcase divider, which has multiple compartments and a hanger hook for the bathroom door.
The suitcase's slight inward tilt when parked took a little getting used to, but I quickly grasped the benefits of the design: better balance with a fully packed suitcase, and no lurch or sudden weight shift when moving forward from the parked position.
New York City
A couple of weeks later, I took the Crew 5 along on a three-day trip to New York. It handled well on the escalators at Newark Airport and Penn Station, it was compact enough to fit on the narrow luggage racks of New Jersey Transit trains between the airport and Manhattan, and it was easy to lug on and off two city buses when I got home.
Memo to myself: Memorize the locations of all internal compartments! (I thought I'd left a necktie at Manhattan's Hotel Pennsylvania until I thought to check the zippered pocket in the bottom of the suitcase two weeks after my trip.)
Venice, Italy
At the end of October, I took the Crew 5 to Venice for a cruise aboard Peter Deilmann's riverboat Casanova. Normally I'd take a 24" bag on a cruise, but the 22" Crew 5 had room for a heavy tweed sports jacket, several pairs of trousers, and all the other clothing that I needed, as long as I washed my drip-dry items on board.
I packed a folding bag to hold the anniversary, birthday, and Christmas gifts that I planned to buy in Venice, but in the end I didn't need it. Instead, I unzipped the Crew 5's expansion compartment and was able to pack everything in the bag after removing my bulky Harris Tweed jacket.
The 22" Crew 5's relatively compact size (even when expanded) made it convenient for hauling over bridges, riding on the vaporetto, and lifting onto on the Alilaguna airport boat and the Marco Polo airport shuttle bus at the end of my journey. The bag also handled well on paving stones, and I had to wrestle with it only once: when the overstuffed (and heavy) bag began wobbling from side to side after I bounced it too energetically down the ramp of a vaporetto platform.
And more trips..
June, 2010: The Crew 5 has now survived nearly six years of multi-leg international and domestic flights. I haven't babied it, either: I always check the bag, so it's received its share of abuse from airport baggage handlers and carousels--and on trips home, it's usually expanded and packed with books, press kits, tourist literature, chocolate bars, Scottish oatcakes, and other dead weight. (I've also lent the Crew 5 to my children for their domestic and overseas trips.)
September, 2014: I'm still using the Crew 5 rollaboard, and it continues to works perfectly after 10 years.
Web link
Travelpro
Click "Crew 10" for information on the 22" rollaboard and other products in the latest generation of Travelpro's original luggage line for flight crews and other demanding travelers.
Related article at Europe for Visitors
Packing for Europe
Happiness lies somewhere between a travel tote and a steamer trunk. Our article has luggage tips with links to packing lists and other resources.
Back to: TravelPro Luggage Review - Page 1
---
---