Travelpro Crew 5
Luggage Review (Archived)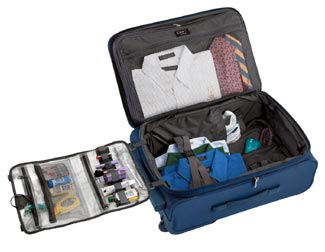 ABOVE: Interior of the Travelpro Crew 5 Expandable 22" Rollaboard Suiter. (The detachable toilet kit on the left serves as a divider when the suitcase is closed.)
By Durant Imboden
The founder of Travelpro, a Northwest Airlines pilot named Bob Plath, invented the wheeled upright suitcase in 1989. Since then, Travelpro "rollaboard" bags are said to have been used by more than 425,000 pilots and flight attendants--including Plath himself, who logged more than 16 million miles in his airline career. The Crew 5 line is the newest generation of Travelpro's flagship brand for business and leisure travelers.
In September, 2004, I began testing a Travelpro Crew 5 rollaboard to see how it compared to earlier Crew suitcases and a generic wheeled upright that my wife bought at a discount store. I chose the 22" Crew 5 Expandable Rollaboard Suiter #7422, which offers an optimum balance between portability and capacity.
Bag basics
Dimensions: This Crew 5 model is considered a carry-on, thanks to exterior measurements of 22" x 14" 9" (56 x 36 x 23 cm) when empty. In practice, it works best as a checked bag, especially on the return trip when the bag is likely to stuffed beyond the airline's maximum size for carry-on luggage. (I prefer to check my luggage in any event, partly to avoid hogging overhead compartments but mostly because I dislike feeling handcuffed to a suitcase in airports.)
Weight: The 22" bag weighs slightly less than 11 pounds or 5 kg, and that weight includes all accessories--even the separate document wallet that Travelpro throws in as a bonus. Travelpro says the Crew 5 line is 25% lighter than its predecessors, thanks to plastic honeycomb side panels and other innovations. The Crew 5 isn't perceptibly heavier than my wife's 22" generic wheeled carry-on, despite its more rigid construction, deeper main compartment, full lining, and extra storage features.
Price: In the U.S., online retailers were selling the Crew 5 #7422 for $180 to $200 at the time this review was first published; in Britain, you were likely to pay £125 to £140. In terms of value, the Travelpro Crew 5 is hard to beat: It offers state-of-the-art construction and protection without making you pay extra for a designer logo. (My son, who used to sell luggage, told me to buy a Travelpro Crew model when I was looking for a new bag four years ago. That 24" Crew 3 rollaboard has been criss-crossing the Atlantic and bouncing over European cobblestones ever since.)
Next page: Construction and packing features
---
---