Billingham Photo Hadley Pro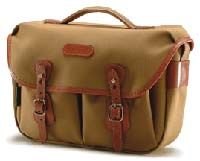 Above: The Billingham Photo Hadley Pro in khaki canvas with tan leather trim.
The Ultimate Camera Bag for Travelers
By Durant Imboden
Over the years, I've amassed a closetful of travel and camera bags. Unfortunately, bags that offer good protection for cameras are seldom useful as all-around travel bags--and vice versa--so my collection has continued to grow until now.
I say "until now" because I think I've found the ultimate camera bag for travelers--or the ultimate travel bag for photographers, depending on your point of view. It's manufactured in England by Martin Billingham, and it's called the Billingham Photo Hadley Pro.
The Photo Hadley Pro consists of two components: an outer waterproof canvas bag with gusseted pockets, and a fitted insert that offers cushioned protection for photographic gear. The insert can be removed--along with its contents--simply by tugging on a snap and sliding the insert out of the bag. You're then left with a sturdy canvas carryall that has room for guidebooks, souvenir purchases, or even a small picnic.

If you need extra room, you can attach Billingham's Avea 3 pockets (see inset photo), which snap firmly into place on each end of the bag. The padded pockets aren't large, but they can be useful. (On a recent trip, I filled one pocket with prescription drugs and used the other for an anti-theft alarm. The drawstring closure under each flap kept my smaller items from getting lost.)
Next Page > Construction and details
Photos: Copyright © Billingham. Used by permission.
---
---