Contax G2: The Ultimate 35mm Travel Camera?
Page 3
Continued from page 2
By Durant Imboden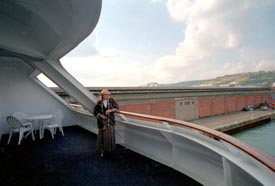 ABOVE: This sweeping view of an "owner's suite" balcony on the Renaissance R7 was taken with the Contax G2 and the 21mm Biogon lens. The Dover Cruise Terminal is in the background.
---
The lenses
To serious photographers, lenses can be more important than camera bodies--and the G2's Zeiss-designed lenses are reputed to be among the world's finest camera optics.
The G2 is available with "T"-series lenses in seven focal lengths:
16mm f/8 Hologon. This superwide lens is too extreme for everyday use, but it's ideal if you need to take photos inside a space capsule or submarine.
21mm f/2.8 Biogon. The photo at the top of the page was taken with this high-priced lens. The 21mm Biogon's 90° field of view is perfect for narrow European streets, building interiors, and other tight quarters. (Like the 16mm Hologon, it requires an auxiliary viewfinder that slides into the camera's hot shoe.)
28mm f/2.8 Biogon. This is a good general-purpose wide-angle lens, with a symmetrical design that minimizes distortion.
35mm f/2.0 Planar. There was a time when 35mm was considered a wide-angle focal length; today, it's a "wide normal" lens (in this case, a high-speed f /2.0 lens) for candid and street photography.
45mm f/2.0 Planar. This "normal"-length lens has a reputation for outstanding performance and is often bundled with the G2. Like the 35mm Planar, it's ideal for taking pictures with slow film under gloomy conditions.
90mm f/2.8 Sonnar. If you're the kind of photographer who likes closely cropped people photos, this low-distortion portrait lens is a good addition to your kit.
35-70mm f/3.5-5.6 Vario-Sonnar. This lens was designed for travel photography. It's very compact, and the barrel rotates easily for zooming without "creeping" between shots.
On my trip, I took most photos with the 35-70mm Vario-Sonnar and the 21mm Biogon. (Kyocera also lent me a 35mm Planar that duplicated the zoom's wide-angle setting and spent most of its time in my cabin's safe.)
For the results of my experience with the Contax G2 and its lenses, see the next page.
Next Page > Test Results - Page 4
---
---
---