Europe > Portugal > Hotel Rural Casa dos Viscondes da Varzea > Page 3
Hotel Rural Casa dos Viscondes da Várzea
Page 3
Continued from page 2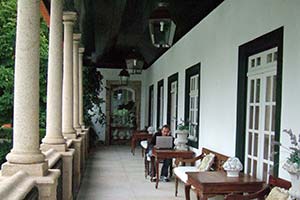 ABOVE: A laptop-equipped guest uses the hotel's Wi-Fi network on the stone veranda that overlooks the formal garden. INSET BELOW: Another photo of the hotel mascot.
Practical information
Location. The Hotel Rural Casa dos Viscondes da Várzea is in Várzea de Abrunhais, near the town of Lamego in Northern Portugal's Douro River wine region.
Rates. The price of a room depends on size, number of beds, and season; see the hotel's Web site for current rates.
Meals. An excellent buffet breakfast is included in the room rate. Lunch and dinner are also available. During my visit, the dinner was a generous buffet of Northern Portuguese specialities, served at a long boardroom-style table in the manor house's beautifully furnished dining room.

Activities. The hotel has a saltwater pool, tennis courts, a game room, and activities (some seasonal) such as grape harvesting, wine pressing, and mountain biking.
Noddy, the owners' Rhodesian Ridgeback, is usually around to interact with dog aficionados; if you like animals, as I do, you'll enjoy this friendly, extroverted beast.
Languages spoken. The proprietor, Maria Cyrne, is fluent in English and French, and the staff are used to dealing with guests of many nationalities.
Shopping. Senhora Cyrne owned a shop in Lisbon before opening the hotel, and now the hotel is her home-furnishings boutique. If you see anything you like, look for a price tag underneath or ask what it costs. (Just pretend you're at Martha Stewart's house with permission to browse the knick-knacks.)
Information and reservations. To learn more about the Hotel Rural Casa dos Viscondes da Várzea, or to book a room, visit the hotel's Web site at www.hotelruralviscondesvarzea.com. For additional pictures of the hotel, click the "More photos" link below:
Next page: More photos
---
---
---