Europe > Portugal > Lisbon > Pastéis de Belém
Pastéis de Belém
Pastéis de Nata or Belém Custard Tarts
From: Lisbon, Portugal
By Durant Imboden
Belém, the maritime gateway to Lisbon during the Age of Discovery, is most famous for its 16th Century Torre de Belém and the Mosteiro dos Jerónimos monastery, two stunning examples of Portuguese Manueline architecture that have earned recognition as UNESCO World Heritage Sites. Still, neither tourists nor Lisboners can subsist on culture alone, and no visit to Lisbon's waterfront suburb is complete without a stop at Pastéis de Belém, a bakery-café that has been serving its trademarked custard tarts since 1837.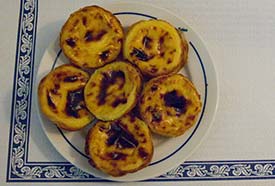 ABOVE: A plate of Belém custard tarts, fresh from the oven. INSET BELOW: The shop's main entrance, minus the usual take-out line.
The shop is hard to miss: It occupies several connecting storefronts on the Rua de Belém, next to the Jerónimos monastery and near the presidential palace (where a recent president of Portugal enjoyed the Belém tarts that he bought each day on his way to work).

The line for the take-out bakery counter often reaches into the street, but don't let it discourage you: Just walk inside, look for an empty table in one of the many dining rooms, and order your pastéis--warm and fresh from the oven--with coffee, hot chocolate, or a shot of something stronger. (You won't be alone: On a busy Saturday or Sunday, the resident bakers often produce more than 50,000 of their delectable custard tarts.)
Pastéis de Belém opens daily at 8 a.m. and serves customers until between 10 p.m. and midnight, depending on the day of the week and the time of year.
Notes:
"Pastéis de Belém" is a trademarked name; at other bakeries in Portugal, the tarts are called "Pastéis de Nata." (Dieters should be aware that the singular of "pastéis" is "pastel.")

If a trip to Portugal isn't on your to-do list, you can try baking the pastries at home with this recipe from Leite's Culinaria.
For more information, see the bilingual Pastéis de Belém Web site.
---
You'll often see a crowd outside the Pastéis de Belém shop, which attracts mobs of locals as well as tourists.
Inside, the tables are likely to be packed with hungry pastry aficionados. (If you can't find a seat, try one of the other dining rooms, which are scattered throughout the connecting storefronts.)
Don't miss a pilgrimage to the bakery on the premises, where you can observe workers unloading trays of tarts behind glass.