Cádiz, Spain
Page 3
Continued from page 2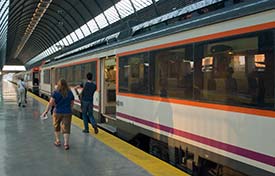 ABOVE: A regional train in the city's modern railroad station. INSET BELOW: Two RENFE trains, the Estación Maritima, a "hop on, hop off" bus, and local tourist literature.
Practical information
Transportation

Arriving by train. Cádiz is less than two hours from Seville by trains of Renfe, Spain's national rail network. Regionale trains run frequently from Seville's Santa Justa station, arriving at the modern Cádiz railroad station next to the Plaza de Sevilla and the ship harbor on the edge of the city center.
(Tip: Jerez de la Frontera, the center of Spain's sherry wine industry, is on the main line from Seville, about 45 minutes from Cádiz.)
For train schedules, use the English-language Renfe journey planner. Reservations aren't required on regional trains, and you can travel free with a Eurail or InterRail rail pass.
Arriving by car. Autoroutes connect Seville to Cádiz, passing Jerez de la Frontera along the way. (You'll need to pay tolls.) Driving time is about an hour, and a half unless you skip the autoroutes and take local roads. For a customized route plan with maps, use Via Michelin.

Arriving by cruise ship. Cádiz is a popular stop for cruise ships on voyages between Britain or the Americas and the Mediterranean. (The city is just outside the Strait of Gibraltar, the narrowest gap between Europe and North Africa.) Cruise ships and ferries moor in the Port of the Bay of Cádiz, next to or across from the Estación Maritima cruise terminal.
Getting around town. For day tourists, everything of interest is within walking distance of the railroad station and cruise port.
If you tire easily, you can buy a buy an all-day ticket on the City Sightseeing "hop on, hop off" bus line. Look for a stop near the Estación Maritima and the Plaza de Sevilla, at the port entrance by the railroad station.
Note: City Sightseeing buses stop at various locations on the edge of the city center, but you'll need to head inland for anything but the most superficial sightseeing or shopping. Unless you really hate walking, we'd suggest skipping the bus and relying on your feet.
Tourist information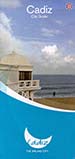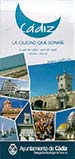 The Cádiz Tourist Office is easy to find: It's in the Paseo de Canalejas, a parklike promenade facing the harbor on the edge of the city center. The information desk has a number of free publications. (If you're arriving by cruise ship, you may be given a Cádiz map and guide as you go ashore.)
For more Cádiz tourist information, visit the official Cádiz Tourism Web site, see the Cádiz section of Andalucia.com, or--best of all--visit and bookmark WhatCadiz.com, the leading independent guide to Cádiz and its attractions. Also see the Cádiz street map at Malagacar.com, which you can click on for pop-up windows with closer views.
Next page: Cádiz photos
---
---