Galicia, Spain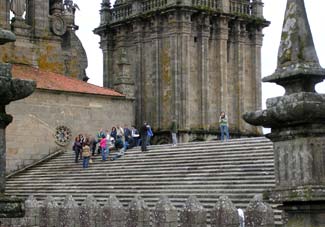 ABOVE: Tourists on the roof of Santiago de Compostela Cathedral.
Travel articles about Galicia:
Santiago de Compostela
Come for the absolution, stay for the architecture, atmosphere, and hearty Gallegan cuisine. My 8-page guide includes travel tips, photos, and links to other resources.
The Pilgrimage Road to Santiago book review
David M. Gitlitz and Linda Kay Davidson describe the historic pilgrimage route to Galicia's capital, which is one of only three "holy cities" for Catholics (along with Jerusalem and Rome).
Galician Palace Gardens
If you're traveling by car, it's easy to visit the Pazo de Oca (the "Galician Versailles") and the nearby Pazo Santa Cruz de Rivadulla. You can even stay at the Pazo de Oca as an overnight guest.
Balneario de Mondariz
Galicia's most famous spa has served up therapeutic mineral waters for drinking and soaking since 1873. Today, its facilities include a "Palace of Water" and an 18-hole golf course.