Europe > Spain > Galicia > Santiago de Compostela
Santiago de Compostela, Spain
Travel and Tourist Information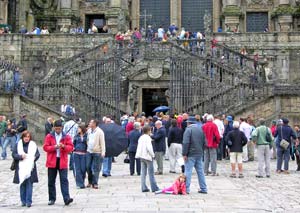 ABOVE: Pilgrims and tourists hang out in the Praza do Obradoiro, with the cathedral's main entrance as a backdrop. INSET: The cathedral's Obradoirio façade.
By Durant Imboden

Santiago de Compostela is the capital of Galicia, Spain's greenest and most northwesterly region. The city is named after Santiago--a.k.a. the apostle of St. James, whose ashes are said to fill a silver box in the cathedral--and it has attracted religious pilgrims for more than a thousand years.
But Santiago de Compostela isn't just a destination for indulgence-seekers, and you don't need a hair shirt or a pilgrim's staff to qualify as a visitor. Michelin's Green Guide to Spain gives Santiago de Compostela its top three-star rating ("worth a journey"), thanks to the city's cultural heritage, beautifully preserved old town, and "an air at once ancient, mystical, discursive, and lively."
With 92,000 residents and a university of 40,000 students, Santiago de Compestela is small enough to be walkable but large enough to keep you busy during a visit of several days or a week.
Thanks to low-cost air service from Madrid, London, Amsterdam, Berlin, Paris, and other European cities, Santiago is also an excellent gateway to Galicia: a region with some 1,300 km of coastline on the Atlantic and the Bay of Biscay, Celtic monuments, wild horses, health resorts, and more than 300 cooking festivals that celebrate everything from Gallego tetilla cheese to roasted chestnuts.
(Tip: Save the pilgrim's walk for the end of your trip; that way, you can enjoy the sin of gluttony and get your slate wiped clean before you head home.)
Next page: A holy city for pilgrims
---
---
---