Balneario de Mondariz
Page 4
Continued from page 3
More photos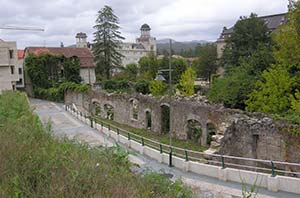 The stone walls of the Great Hotel, which opened in 1898 and later served as a military hospital during the Spanish Civil War, were preserved after a fire destroyed the building in 1973. A path from the village leads past the ruins to the former Gran Hotel (see below), and today's Meliá Balneario Mondariz Hotel.
---
The former Gran Hotel is across the street from the Meliá Balneario Mondariz Hotel, next to the Fuente de Gandará and facing a public park. It has been converted into 188 vacation apartments.
---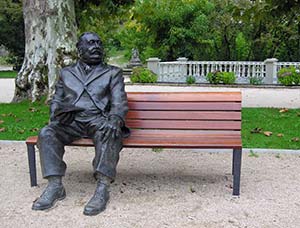 A bronze dignitary occupies a park bench in front of El Gran Hotel.
---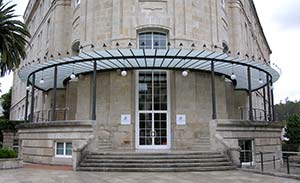 Glass canopies add an elegant touch to the façade of the Balneario de Mondariz Hotel, which incorporates several buildings (including the old Mondariz water-bottling plant).
---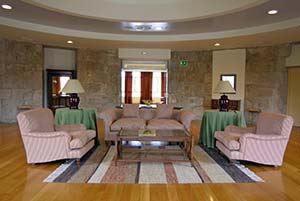 The hotel's guest wings have several quiet, comfortable lounges for reading or relaxing.
---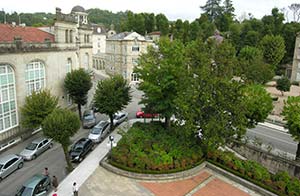 This view from a guest wing shows other buildings and the Palace of Water across the street.
Back to: Balneario de Mondariz: Introduction
---
---
---