Europe > Germany > Emigration museums > German Emigration Center Bremerhaven > Photos
German Emigration Center
Page 2
Continued from page 1
More photos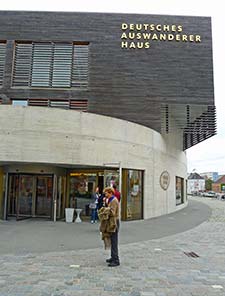 The German Emigration Center's building is made of reinforced concrete with a façade of larchwood slats. It rests on more than 150 concrete pilings that are anchored 20 meters or 66 feet into the ground.
---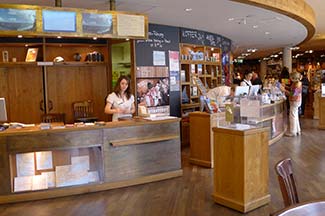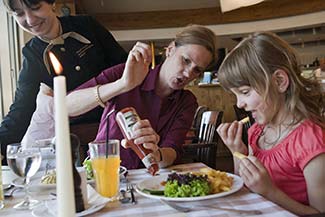 Your visit begins at the ticket desk in the main lobby, where you'll also find a small gift shop and a restaurant. (If the weather is nice, you can have your drink, snack, or meal outdoors.)
---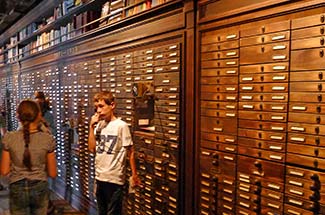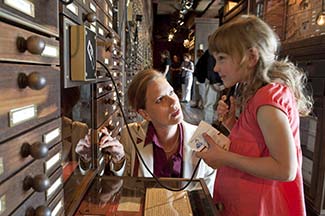 Using your electronic boarding pass, you can learn about your assigned emigrant in the "Gallery of the 7 Million." Or you can open drawers at random and view copies of emigrants' Auswanderkarten or emigration cards: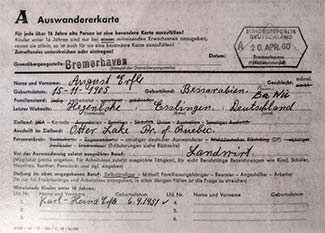 (To see a larger version of this document, click here.)
---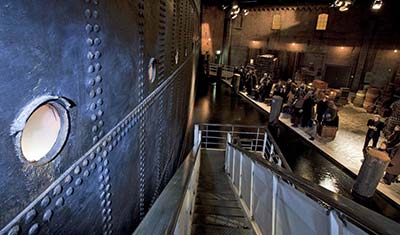 One of the most intriguing sections of the museum is the "On board" section, which shows what it was like to be an emigrant leaving Bremerhaven by ship in 1888. The exhibits begin with a harbor scene next to the transatlantic liner, which you'll enter by walking up a gangway.
(Most of the people in this photo are costumed mannequins; the live human visitors are on the right.)
---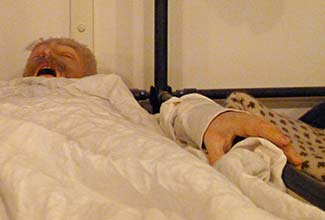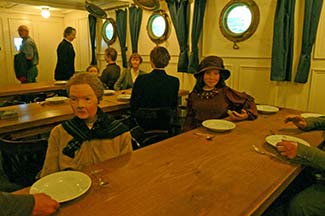 Aboard the ship, you'll see how passengers spent their days and nights at sea.
---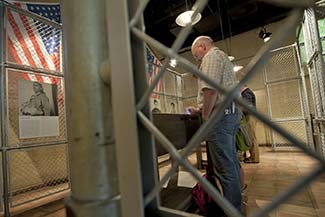 An Ellis Island exhibit shows what it was like to arrive in New York, where passengers were detained, given medical check-ups, and quizzed by immigration inspectors who had the power to accept or reject immigrants.
---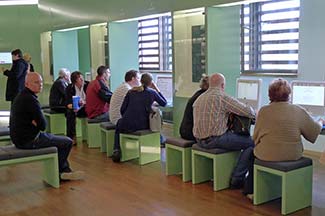 The "Forum Migration" at the Deutsches Auswanderer Haus has a row of computer terminals where you can look for your ancestors in various English- and German-language databases.
The museum also has a Research Service for computer-challenged guests or people who aren't able to visit Bremerhaven.
---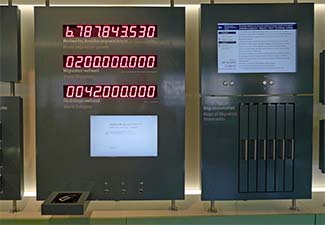 An electronic display shows the currently-estimated number of people, migrants, and refugees in the world. The display is part of an exhibit on global migration that discusses Germany's role as an immigration and emigration country.
Back to: Deutsches Auswanderer Haus - Introduction
---
---
---
---
Photos 3, 5, 7, 10 copyright © Deutsches Auswanderer Haus.