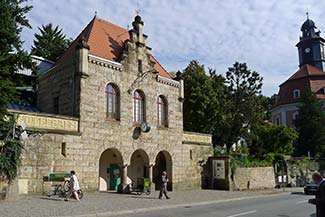 The Schwebebahn Dresden's Talstation, or valley station, is by Körnerplatz in Loschwitz, a residential district on the north side of the River Elbe's "Blaue Wunder" bridge near Dresden.
---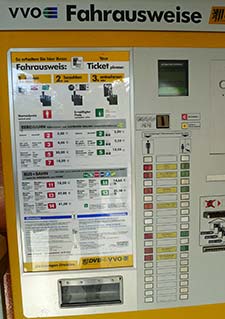 Inside the station, you can buy a one-way or return ticket on the Schwebebahn from a vending machine or a human attendant. (Ask for a discount if you have the Dresden Regio Card.)
---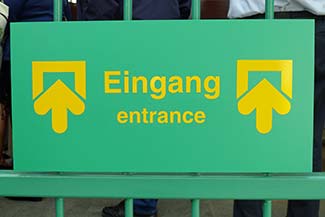 After you've bought your ticket, follow the signs to the departure platform.
---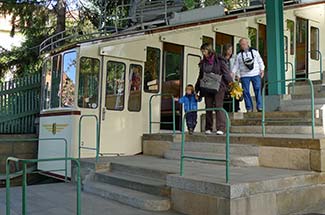 Board the Schwebebahn in the same way that you'd board a funicular: Wait for the arriving passengers to disembark, then walk up the steps until you find an empty compartment. (If you're planning to take photos, try to sit near the bottom or top of the car.)
---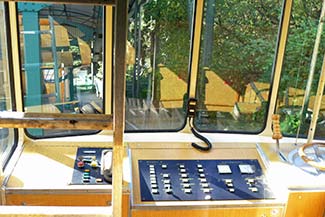 The two cars of the Schwebebahn are linked by a cable that revolves around a drum in the Bergstation or upper station. As the system's other car descends from the Bergstation, your car will depart from the Talstation.
(Note the modern control panel. The Schwebebahn opened for business in 1901, but it was overhauled in 2001-2002.)
---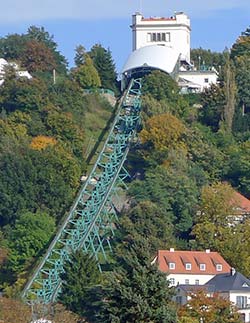 The trip to the Bergstation or top station takes 4½ minutes.
---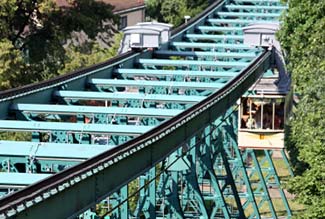 Midway through the journey, the Schwebebahn's ascending and descending cars pass each other.
---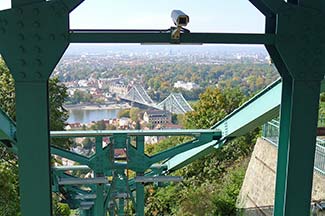 When you reach the Bergstation, you'll find a snack bar and viewing platforms. This picture from upper station shows the Schwebebahn's guiderails, which are supported by 32 pylons and have an average inclination of 32.18 percent.
---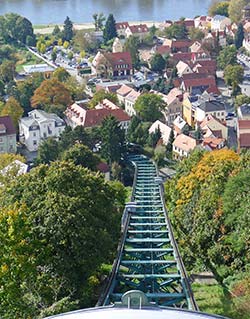 Take the stairs or elevator to the rooftop observation deck, which offers spectacular views of the Elbe and the riverside community of Loschwitz.
---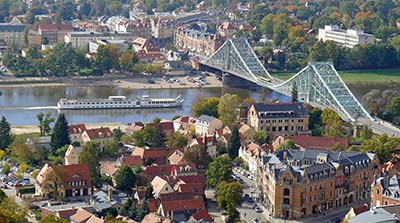 Here, you can see an international river-cruise ship approaching the Blaue Wunder bridge across the Elbe. (Several cruise lines offer voyages on the Elbe between Potsdam or other German cities and Prague.)
---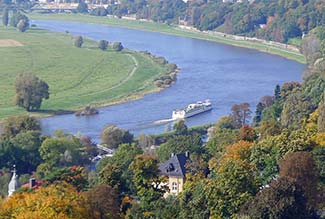 In this photo, the cruise ship has passed beneath the Blaue Wunder bridge and will soon arrive in Dresden's historic center.
Local vintage steamers and water buses also cruise on the Elbe. See our illustrated "Elbe River Steamboat Cruises" article for information about the Sächsische Dampfschiffahrt or Saxon Steamship Company, which has operated paddlewheel steamers on the Elbe since 1836.
---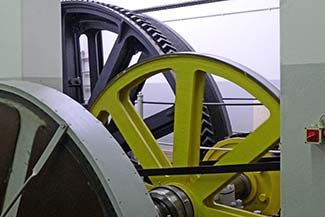 For a small fee, you can tour the machine house in the Bergstation, where huge pulleys and geared wheels keep the Schwebebahn's counterweighted carriages moving. On holidays and at other peak times, the Schwebebahn carries up to 400 passengers per hour in each direction.
---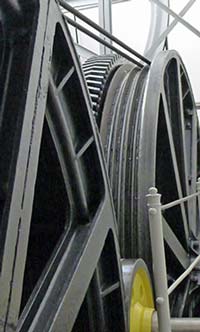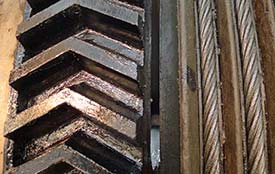 These two photos show the Schwebebahn's cable drum and steel rope. The latter is 410 meters or more than a quarter-mile long, with a diameter of 38mm or 1.5 inches.
---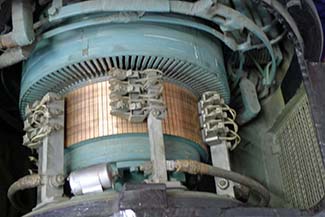 Power is supplied by an 80-kW or 107-hp electric motor.
When the Schwebebahn opened in 1901, it was powered by a steam engine, but electricity replaced Dampf in 1909.