Fichtelbergbahn Steam Railway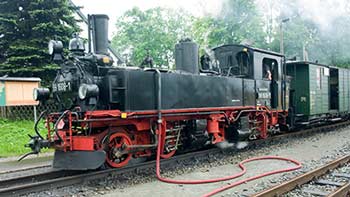 ABOVE: A locomotive of the Fichtelbergbahn takes on water at a station along the 17-km line, which offers scheduled service to Germany's highest town.
By Durant Imboden
Many steam railroads offer excursions, but the Fichtelbergbahn, or Fichtel Mountain Railway, is one of the few that operate scheduled service for tourists and commuters throughout the year.

On any given day, three to five trains cover the scenic 17.4-km or 10.8-mile stretch between Cranzahl and Kurort Oberwiesenthal, the highest town in Germany with an elevation of 893 meters or 2,930 feet. Travel time is approximately one hour, and some trains have buffet cars where you can enjoy beer, snacks, coffee, or cakes.
The Fichtelbergbahn is a narrow-gauge railroad, with a track width of 750 mm. The line opened in 1897, and it currently has five steam locomotives that were built from 1952 to1956. (The 30 passenger and baggage cars entered service between 1913 and 1932.)
In addition to its normal schedule, the Fichtelbergbahn operates special trains such as an Easter Bunny express, a Nikolausfahrt or Santa Claus excursion, Moonlight rides, and an Ascension Day/Father's Day trip with musical entertainment.
For more information, including timetables, visit the railroad's Web site.
Note: Kurort Oberwiesenthal, the southern terminus of the Fichtelbergbahn, is also home to the Fichtelberg Schwebebahn aerial cable car and is close to the Saxon Narrow-Gauge Museum Rittersgrün, which you can reach via a connecting public bus. The Ore Mountains Model Railway Park and the Wolkeinsteiner Zughotel train hotel and restaurant are a short drive away.
Next page: More Fichtelbergbahn photos
---
---
---
Inset photo: Tourism Company of Saxony.