Europe > Germany > GDR tourism
GDR Tourism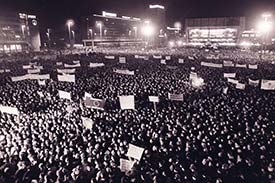 ABOVE: Public demonstrations in Leipzig, Dresden, Erfurt, and other cities helped bring an end to Communist rule in East Germany. INSET BELOW: A Trabi on the rocks.

In 1989, the Iron Curtain began to crumble, and the Berlin Wall was pulled down. Today, cities throughout Eastern Germany have museums, monuments, and memorials that chronicle daily life, commemorate victims of the German Democratic Republic's state security apparatus, and honor the role that ordinary citizens played in ending 40 years of totalitarian government.
The links below will take you to our growing collection of articles about the "Fall of the Wall" and other topics that fall under the broad heading of "GDR tourism."
---
GDR articles index:
Underground Berlin
Join the urban archaeologists of Berliner Unterwelten ("Berlin Underworlds") for guided tours of Cold War nuclear shelters, World War II bunkers, and other subterranean structures.
Lindenstrasse 54/55 Memorial Site, Potsdam
A former Nazi, Soviet, and East German prison offers sobering insights into political oppression.
Schloss Cecilienhof Museum and Hotel, Potsdam
The Potsdam Conference took place here, and after 1961, a border wall blocked the palace and hotel's view of the water beyond the lawn.
Pfingsberg Belvedere, Potsdam
During the Soviet Occupation and GDR regime, this 19th Century building was off-limits to the public because it offered views of KGB headquarters, a political prison, and West Berlin.
The Brocken, Harz Mountains
Vintage steam trains ascend Northern Germany's highest mountain to a former GDR listening post where Stasi officers monitored radio signals from as far away as Scotland.
Museum in der "Runde Ecke," Leipzig
Visit a former Stasi district headquarters where security officials opened mail, tapped phones, and locked up suspected traitors.
Forum of Contemporary History, Leipzig
This museum "commemorates the opposition, resistance and moral courage shown in the GDR against the background of German division."
Museum im Stasi-Bunker, Leipzig
An underground Stasi command post from the Cold War has been restored for public visits. It's located 30 km or 19 miles from central Leipzig.
Monday Demonstrations, October, 1989
After non-violent protesters took to the streets of Leipzig and other cities, the "Peaceful Revolution" led to an opening of the borders between East and West Germany.
Dresden and the Peaceful Revolution
Dresden, a through point for "peace trains" from the Czech Republic to West Germany, joined the protests that helped bring down the GDR. Its former Stasi district HQ is now a memorial and museum.
Trabi Safari Tours, Dresden and Berlin
The Trabant, or "Trabant," was the people's car of East Germany. Today, you can drive a restored Trabi on a sightseeing tour (if you can get used to the column shift and motorscooter-sized engine).
Dresden Park Railway
Travel through Dresden's largest city park on a miniature railroad that was staffed by children of the "Young Pioneers" during the GDR era.
---
Top photo: Leipzig Tourism und Marketing GmbH.
Inset photo copyright © Luke Daniek.