Europe > Germany > Potsdam > Pfingstberg belvedere
Pfingstberg Belvedere
From: Potsdam, Germany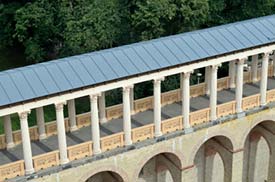 ABOVE: A close-up of the Belvedere's arcaded walkway.
By Durant Imboden
At 78 meters or 256 feet above sea level, the Pfingstberg is the highest hill in Potsdam, Germany. Its Belvedere, a collection of cloistered viewing promenades and towers in Italianate style, was begun in 1847 during the reign of Kaiser Friedrich Wilhelm I. It wasn't completed until 1863.
From the late 1880s onward, the Belvedere was a popular attraction with locals and tourists. After World War II, however, it was closed to the public because it offered views of the Soviet KGB headquarters, prison, and military barracks at the foot of the hill. (This area became known as the "Forbidden City," and the entire park was sealed off from the public after the Berlin Wall was erected in 1961.)
Over the years, the Belvedere fell victim to decay and vandalism. Potsdam citizens began restoring the monument under the auspices of the GDR's Cultural Association in 1987. In June, 1989, the first "Pfingstbergfest" or Pfingstberg Festival attracted more than 1,000 people.
After repairs, the Belvedere reopened in 2001 and was completely restored by 2005. Today, more than 100,000 Potsdamers and visitors climb the Belvedere's towers every year, enjoying panoramic views and cultural events such as concerts, theatrical productions, and exhibitions.
The FŲrderverein Pfingstberg (Pfingstberg Support Association) also rents the Belvedere out for weddings and receptions, and it offers public "moonlit night" visits and illuminations from spring through fall.
Location
The Pfingstberg Belvedere stands in an English-style park north of the city center. It's easy to reach by tram, bus, or car--or even on foot, if you're staying in the New Garden district (see my article on the Relaxa Schlosshotel Celienhof) or don't mind a hike.
Visitor information and photos
The Pfingtsberg Belvedere is open from March through November, with hours varying according to the season. (It's closed during the winter because the exposed stairs and walkway can become slippery from ice and snow.)
Ticket prices are reasonable, and there's even an inexpensive "family card" for two adults and up to three children.
To learn more about the Belvedere and its surroundings in English, visit the support association's Pfingstberg Potsdam site. And to view our captioned photos of the Pfingstberg Belvedere, see page 2 of this article.
Next page: More photos
---
---
---
---
---