Europe > Germany > Leipzig > Forum of Contemporary History
Forum of Contemporary History
Zeitgeschichtlisches Forum
From: Leipzig, Germany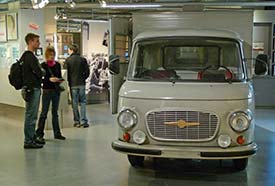 ABOVE: Visitors inspect a van from the DDR-Zeit, or GDR era. INSET BELOW: A sign reads: "Murder is murder even when it's ordered."
By Durant Imboden

The Zeitgeschichliches Forum in Leipzig, Germany--also known as the Forum of Contemporary History--is a visitor-friendly museum that "commemorates the opposition, resistance and moral courage shown in the GDR against the background of German division."
The museum, which is located in the center of Leipzig, has a permanent exhibition that focuses on dictatorship, repression, citizen resistance, and events that ultimately led to the "Peaceful Revolution" of 1989. This exhibition draws on a collection of more than 3,200 objects, photos, and documents. The museum also stages temporary exhibitions (such as "Melodies for Millions: The Century of Pop Songs" during my visit) and organizes traveling exhibitions such as my own favorite, "Contemporary History in the Tram."
Visiting the Forum
The Forum of Contemporary History is open 9 a.m. to 6 p.m. (Tuesday to Friday) and 10 a.m. to 6 p.m. (Saturday and Sunday). Admission is free. A shop and cafť are on the premises, and you can check your backpack and coats at the Garderobe on the ground floor. (Toilets are upstairs, outside the main exhibit area.)
For directions and other details, visit the Forum of Contemporary History pages at https://www.hdg.de/en/.
To get an idea of what you'll see at the Forum of Contemporary History in Leipzig, go to the captioned photos on page 2 of this article. Also see our article on another fascinating museum in Leipzig, the "Runde Ecke" Stasi Museum and Memorial in the former headquarters of the GDR's State Security Service.
Next page: More photos
---
---
---