Europe > Germany > Leipzig > Museum im Stasi-Bunker
Museum im Stasi-Bunker
Museum in the Stasi Bunker
From: Leipzig, Germany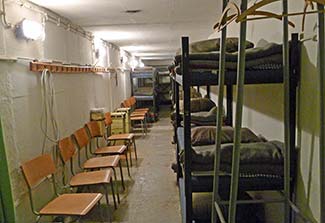 ABOVE: An underground dormitory in the former Stasi Bunker.
By Durant Imboden
From 1968 to 1972, the GDR state security service in Leipzig built an underground shelter in Machern (30 km or 19 miles east of Leipzig) to protect the Stasi's leadership in the event of a chemical, biological, or nuclear attack by NATO.
If war had occurred, 120 Stasi officers and two Soviet KGB liasons would have retreated to the bunker, undergone decontamination, and operated from their temporary command post until it was safe to venture outdoors.
The Stasi-Bunker's rural surroundings were camouflaged as a holiday retreat for employees of the VEB, Leipzig's water and sewer department. (In reality, any VEB worker who ventured onto the grounds would have been intercepted by Stasi officers or their guard dogs.)
After the fall of the Soviet Union and the GDR regime in 1989, the bunker was abandoned and fell into disrepair. Many items were stolen from the unguarded bunker, including sump pumps that were needed to kep the shelter dry.
When the bunker was leased for 99 years by the Leipzig Citizens' Committee (which also runs the Museum in der Runde Ecke in a former Stasi headquarters), the tunnels were partly flooded. Over time, the citizens' committee restored the bunker and furnished it with objects from other bunkers in the area, using journalists' photos from 1989 to ensure authenticity. The bunker was reopened as a museum in 1995.
Today, the Museum im Stasi-Bunker is open to the public on the last weekend of every month from 1 to 4 p.m. (Groups can request private guided tours at other times.) Entrance fees are modest.
For more information, visit the Leipzig Citizens' Committee's English-language Stasi Bunker Museum pages and confirm opening hours with the more frequently updated German-language visitor information.
Next page: More photos of the Museum in Stasi-Bunker
---
---
---