Leipzig Travel and Tourist Information
Page 6
Continued from page 5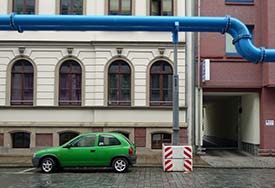 ABOVE: During a recent visit to Leipzig, a temporary utility pipe formed an impromptu sculpture that snaked through the city center.
Tourist office
Leipzig's tourist office, formally named "Leipzig Tourismus und Marketing GmbH," has an information center at Katharinenstrasse 8 near the city hall. Click here for hours of operation, a map, and other details.
Leipzig Web links
Leipzig Region
The tourist office's official Web site is packed with useful listings and advice. For tourist information in your preferred language, click a flag icon at the top of the tourist office's home page.
Germany Tourism: Leipzig
The German National Tourist Office offers basic information on Leipzig sightseeing, shopping, dining, suggested excursions, and other topics.
Wikipedia: Leipzig
The online encyclopedia offers a quick introduction to Leipzig, with notes on the city's history, musical culture, educational institutions, economy, media, sports, annual events, and more.
Leipziger Messe
Leipzig has been noted for its trade fairs since the 1400s, and its new Exhibition Center (which opened in 1996) hosts nearly four dozen major events that attract more than a million visitors per year. The Leipzig Book Fair and the GC Games Convention rank high on the list of events; another with a catchy title is the DOG-Kongress (with DOG standing for "Deutsche Ophthalmologische Gesellschaft," not our canine friends).
Back to: Leipzig, Germany - articles index
---
---
---