Leipzig Travel and Tourist Information
Page 5
Continued from page 4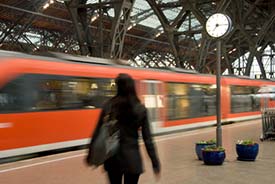 ABOVE: Leipzig's Hauptbahnhof is the largest terminus station in Germany (and possibly in Europe). INSET BELOW: The Hauptbahnhof's shopping center, an airplane landing, a Leipzig highway sign, and an LVB tram.
Transportation: arriving in Leipzig

By train. Leipzig is a major rail hub, with frequent trains to cities throughout Germany. Berlin is only 150 km (93 miles) away by high-speed ICE train, Frankfurt and Hamburg are about 244 km (183 miles), and Munich is 360 km (224 miles) from Leipzig. Soon, a new €750 million rail tunnel will make it even quicker for arriving and departing trains to serve the Hauptbahnhof, or main railway station, in the city center.
To check timetables or plan a trip by train, use the English-language Deutsche Bahn journey planner.
By air. Leipzig is served by two airports:

Leipzig-Halle (LEJ), 11 km or 8 miles from Leipzig, is the city's main airport. "FlughafenExpress" trains depart for Leipzig at 30-minute intervals, taking only 14 minutes for the journey between LEJ and the main railroad station. The airport also has a Deutsche Bahn InterCity rail station with hourly service to Halle and Magdeburg.
Leipzig-Altenburg (AOC), handles Ryanair flights between Saxony and foreign cities such as London, Edinburgh, and Barcelona. It's a 70-minute bus ride from Leipzig.

By car. Leipzig is served by three Autobahnen: the A9 (Berlin-Munich), A14 (Magdeburg-Dresden), and A38 (Göttingen-Leipzig). To plan a journey by road, use ViaMichelin.
Local and regional transportation

Leipzig's city and regional transportation network has more than 160 km (100 miles) of rail and streetcar routes, and a new underground line is under contruction in the city center. If you can't walk to your destination, it's likely that you can get there quickly and easily by tram, train, or city bus.
For Leipzig-area transit maps, ticket information, and timetables, visit the English-language Leipziger Verkehrsbetrieb (LVB) Web site. The English-language Deutsche Bahn journey planner is useful for researching day trips by train.
Tip: If you're staying outside of the city center, or if you're planning a local excursion outside the Mitte, you might want to consider buying the Leipzig Card. The card offers unlimited transportation on LVB trams and buses within the city limits plus discounts on sightseeing tours, at selected museums and concert venues, and in certain restaurants and other businesses. It comes in 1- and 3-day versions for individuals and families.
Next page: Tourist office, Web links
---
---
---