Leipzig
Travel and Tourist Information
From: Leipzig, Germany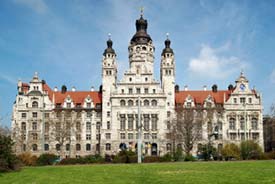 ABOVE: The Neues Rathaus or New City Hall in Leipzig, Germany. INSET BELOW: A road map, a park fountain, the Federal Administrative Court, and an Argentinian football fan during the 2006 World Cup.
By Durant Imboden

Leipzig, Germany has had a succession of names and nicknames, from "Place of Limes" (Lipzk, later Urbs Libzi) to "City of Education and Commerce" and (more recently) "Heldenstadt," or "Heros' City," in honor of its pivotal role in the Peaceful Revolution of 1989 that brought down the German Democratic Republic and the Berlin Wall.

Regardless of its name, nickname, or motto, Leipzig is one of the most important cities in Eastern Germany. In past centuries, it attracted great men like Johann Sebastian Bach, Martin Luther, and Goethe; its university has been in continuous operation for 600 years; the Leipzig Book Fair published its first catalogue in 1594; and the original Leipzig Fair was given "Imperial Fair" status by the Emperor Maximilian in 1497.

Even during the gloomy years of the GDR, Leipzig remained an important cultural and business center, and the city has enjoyed a renaissance since the reunification of Germany in 1990. Thousands of skilled artisans--many imported from countries such as Britain--have restored historic buildings that were neglected during the years when state security was deemed more important than maintenance.

Today, Leipzig is a city with a thriving university, a busy downtown shopping district, a vibrant cultural scene, and a lively collection of restaurants, bars, and coffeehouses. As a major rail and road transportation hub, it's a city that you're likely to encounter on any trip through Eastern Germany, but it isn't just a place to pass through--it's worth a day or two of your time, and preferably more.
Leipzig is also a must-see stop on any GDR-themed tour of Eastern Germany, thanks to the Museum in der "Runde Ecke" (Leipzig's former Stasi district headquarters) and the Forum of Contemporary History (which covers life and resistance in the GDR).
Next page: Sightseeing, shopping
---
---
---