Münster Photos
From: Münster, Germany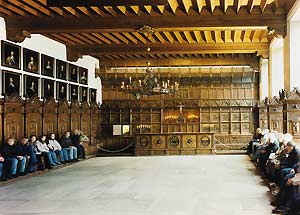 The atmosphere is more peaceful in the Friedensaal, or "Hall of Peace," in the old Rathaus (city hall).
Here, you can see where negotiations took place from 1644 to 1648 to end the Thirty Years War and establish the Netherlands as an independent country.
The room's furnishings are original: They were removed to a safe place at the beginning of World War II, so they escaped damage during Allied Bombing.
---
---
---
Photo: Presseamt Stadt Münster