Münster Photos
From: Münster, Germany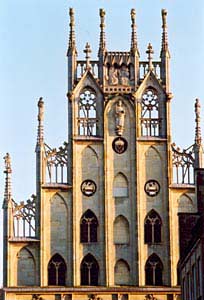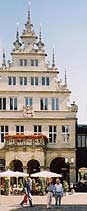 The Gothic Rathaus was badly damaged in World War II but was restored at great expense from 1950 to 1958. The oldest record of the city hall dates back to 1250, and the present-day fašade was designed in 1335. The building is open to the public; just open the door and go inside.
Next door and to the left of the Rathaus is the Stadtweinhaus (inset photo), built in 1615 to hold wine--which was a city monopoly--and the municipal scales.
To visit the Friedenssaal in the Rathaus (see previous photo), buy an admission ticket at the information desk and ask for the English-language Münster Historical: City Hall of the Westphalian Peace brochure.
The Friedensaal is often used for receptions and other city functions. If you can't get in during the morning or early afternoon, come back toward the end of the business day.
---
---
---
Photos: Presseamt Stadt Münster. Top photo: Joachim Busch.