Münster Photos
From: Münster, Germany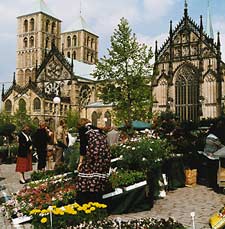 The St-Paulus-Dom, or St. Paul's Cathedral, faces the Domplatz (Cathedral Square), where Christian missionaries first settled what is now Münster in 793 A.D.
The 13th-Century cathedral has an astronomical clock from 1540 (try to come for the mechanical show at midday), a highly-regarded Domkammer or treasury, and the burial chapel of Cardinal Clement August Graf von Galen, who preached Hitler's euthansia policy and persecution of the church during the Nazi era.
On Wednesdays and Saturdays throughout the year, a Farmers' Market takes place on the Domplatz from 7 a.m. until early afternoon.
---
---
---
Photo: Presseamt Stadt Münster