Europe > Germany > Regensburg > Document Neupfarrplatz > Page 3
Document Neupfarrplatz
From: Regensburg, Germany
Page 3
Continued from page 2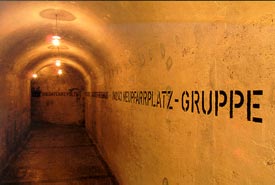 ABOVE: Adjoining the Document Neupfarrplatz is a World War II air-raid bunker with a memorial inscription honoring the "Neupfarrplatzgruppe," a resistance group that fought the Nazi regime.
---
Visitor Information
Document Neupfarrplatz is underneath the Neupfarrplatz, a square in Regensburg's historic center. It's reached via a staircase in the southern part of the plaza. (When you arrive on time for the guided tour--see information below--you should see a curator or guide waiting for visitors near the entrance.)
Tickets: You can buy tickets at Tabak GŲtz, which also sells a CD-ROM version of the Document's multimedia presentation. (Ticket prices are reasonable, and a family ticket is available for the price of two adults.)
When to visit: Individual admission is by guided tour only at 2:30 p.m. on Thursday, Friday, and Saturday. Groups of 25 or more can arrange private visits at other times.
For more historical background, photos, and visitor information, see the English-language Document Neupfarrplatz page of the Stadt Regensburg Web site.