Europe > Germany > Regensburg > Document Neupfarrplatz
Document Neupfarrplatz
From: Regensburg, Germany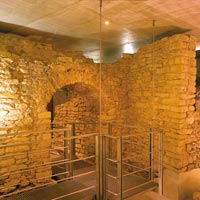 ABOVE: Document Neupfarrplatz is a museum with underground walkways that lead you through Regensburg's Roman and Jewish past.
By Durant Imboden
In 1995, the city of Regensburg dug up the Neupfarrplatz, a large square in the Altstadt, to install electrical outlets for the annual Christmas Market. Archaelogists expected to find relics of the city's 2,000-year history, but they discovered far more than that. Over the next three years, the city's rewiring project became a major archaeological dig that yielded well-preserved ruins of:
Castra Regina, the Roman military camp founded by emperor Marcus Aurelius in 179 AD.
Regensburg's medieval Jewish Quarter, which had been torn down and replaced by a church after the town council expelled the Jews in 1519.
Today, the excavations have been preserved as a city-owned museum called Document Neupfarrplatz. When you visit the museum, you'll walk among ancient foundations that are preserved where they were discovered after being buried for 500 to 1,800 years.
Photo © Presse- und Informationstelle, Stadt Regensburg.