Europe > Germany > Regensburg > Walhalla
Walhalla
A Teutonic 'Temple of Fame' in Donaustauf bei Regensburg
From: Regensburg, Germany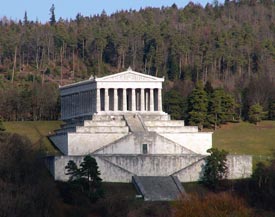 ABOVE: Walhalla is modeled on the Parthenon. The "Temple of Fame" stands on a hillside overlooking the Danube.
By Durant Imboden
In a world where halls of fame are commonly associated with baseball or rock 'n roll, the idea of a Teutonic Hall of Fame to honor German-speaking artists, writers, philosophers, scientists, and other historic figures may seem a bit odd. Yet that's exactly what King Ludwig I of Bavaria had in mind when he commissioned Walhalla in Donaustauf bei Regensburg, Germany.
Ludwig conceived his Temple of Fame in the early 19th Century, when he was still Bavaria's Kronprinz. After choosing the location, he ordered his architect, Leo von Kienze, to construct a Greek Revival monument based on the Parthenon in Athens. The building, called Walhalla, was built over a 12-year period (from 1830 to 1842) and became a symbol of "the German nation" at a time when Germany was a patchwork of kingdoms and small states.
The white stone temple sits on a massive foundation with 358 steps that lead down to a boat landing on the Danube. Newlyweds often have bridal photos taken between Walhalla's columns, and few tourists can resist making snapshots with the monumental building or the curving river as a backdrop.