Europe > Germany > Wittenberg > Bettina Brett
Bettina Brett
An English-speaking tour guide in Lutherstadt Wittenberg
From: Wittenberg, Germany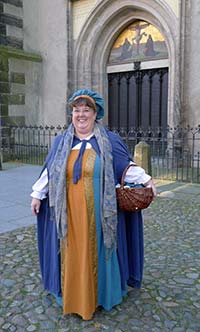 ABOVE: Bettina Brett at the "Theses Door" of Lutherstadt Wittenberg's Schlosskirche.
By Durant Imboden
We're big fans of the public walking tours that many German tourist offices schedule throughout the year. Unfortunately, there often isn't much demand for English-speaking tours, and in Wittenberg--as in many German towns--you'll need to make your own arrangements unless you're traveling in a large group.

If you're reasonably well-heeled, or if you can split the cost with friends, a private guide will make your visit a more rewarding experience. In Wittenberg, one such guide is Bettina Brett, who offers private excursions when she isn't leading walks for busloads of group tourists.
Like her colleagues at Citytour Wittenberg, Bettina Brett will escort her clients in 16th Century costume on request. She knows her subject matter intimately, speaks English like a native (she lived in the United States for 2Ĺ years), and is a delightful companion.
To inquire about rates, or to book a private tour, visit the Citytour Wittenberg Web site.