Luther-Hotel Wittenberg
From: Wittenberg, Germany
By Durant Imboden

I stayed at the Luther-Hotel Wittenberg during a recent tour of Martin Luther's 16th Century haunts, and I enjoyed the experience. Here's a short collection of random observations about the four-star hotel:

My double room on the top floor was large and comfortable, with plenty of daylight from the screened windows. The furniture was modern, with lots of blond wood (which is pretty typical of German hotels in the three- and four-star categories).

The lobby had plenty of space for sitting around on a rainy day. The reception staff were friendly, and hotel manager Roger Voigt (who lives on the premises) shared an interesting story: During the GDR era, when he worked as an aircraft technician, he was invited to participate in an experiment where mechanics were trained to fly on a flight simulator. He did so well that he was fired from his job, because the East German authorities were afraid that he might use an airplane to escape across the border.

The ground-floor Convivo Restaurant has an outstanding kitchen under the direction of a young chef, Christian Hirsch, who favors local and regional ingredients that he uses in a variety of German, international, and Mediterranean dishes. If you're traveling with a companion, the moderately-priced "Convivo Menu" for two is a good value: It includes a three-course dinner with a glass of wine.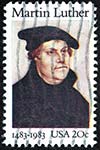 The Luther-Hotel is loyal to its namesake: A bust of Luther stands in the lobby, and by the time you visit Wittenberg, a newly commissioned two-meter statue of the Reformer should be greeting guests within the front entrance.
During my visit, the hotel featured a "Luther Burger" on the Convivo Restaurant's lunch menu. Manager Roger Voigt explained that the burger, which was designed for younger guests, consists of flattened Wurst meat in a bun. He added, with a straight face: "We can't call it a hamburger. We aren't McDonald's."

The hotel has an underground parking garage, which is a great convenience if you're touring Luther country by car. (At the time of my visit, the daily parking fee was 7 euros.)
The Luther-Hotel Wittenberg belongs to the Albrechtshof Hotels group, which is owned by the Berliner Stadtmission. Profits from the Luther-Hotel and its sister properties are used to help the homeless, provide children's services, care for the elderly, etc.
For more information about the Luther-Hotel Wittenberg, or to book a room, visit www.luther-hotel-wittenberg.de.