Rotterdam Shopping
From: Rotterdam Travel Guide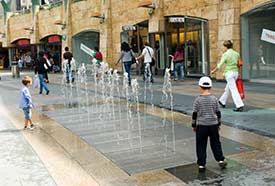 ABOVE: Two boys admire a fountain in the Beurstraverse, a sunken shopping street (nicknamed the "Shopping Gutter") for pedestrians in downtown Rotterdam.
Shopping districts and stores

For mainstream shopping, Rotterdam's city center is the place to go: You'll find Rotterdam's top department store, de Bijenkorf, along with international brands like C&A, H&M, and Sephora, along with specialty stores that deserve special mention:

Polare (formerly Selexyz Donner) is the largest bookstore in the Netherlands. Its multistory building on Lijbaan, in the downtown pedestrian district, stocks more than 250,000 books--including a large section of English-language titles and a range of local guidebooks and maps. It was closed the last time we checked, but--with luck--it may reopen in the not-too-distant future.

De Zonnewijzer is on Korte Hoogstraat, just east of the Blaak-Coolsingel intersection. It sells wooden toys, nursery accessories, clothes for children and mothers-to-be, craft items, and school supplies.

Meijer & Blessing, a Rotterdam institution since 1813, specializes in Märklin model trains, radio-controlled cars, products for model-builders, and other hobby items.

De Groene Passage is a cooperative of businesses that sell organic, natural, or fair-trade products. The eight stores in the passage range from Gimsel (an organic supermarket) to Vanbinnen (a purveyor of ecologically-correct home furnishings).
Other local shops and galleries of note include:
The VVV (tourist office) publishes a brochure titled Shopping in Rotterdam that describes eight "shopping routes" in the city. Pick up a copy during your visit or see Rotterdam Marketing's Shopping page.
Public markets
Rotterdam has several public markets, but the one that gets the most attention is the twice-weekly market on Binnenrotte, which operates from 9 a.m. to 5 p.m. on Tuesdays and Saturdays and has hundreds of stalls that sell everything from fish, cheese, and flowers to books, vintage costume jewelry, and furniture.

The market is easy to find: It starts above the Blaak train and Metro station (just east of the Laurenskerk) and runs for blocks. It isn't just for tourists, either: Many shoppers are from Rotterdam's low-income immigrant neighborhoods, while the rest are a mixture of old ladies with shopping carts, young mothers with strollers, and other local residents.
Provast and the Dutch architecture firm MVRDV have developed an off-the-wall concept for a covered market hall on the west side of Binnenrotte, with an innovative tunnel-shaped apartment building forming a residential arch over the food halls. (See image gallery.)
Next page: Hotels, hostels
---
---
---
6th inset photo: Martin De Wit.
7th inset photo: Netherlands Board of Tourism and Congresses.