Europe > Netherlands > Rotterdam > Shopping
Rotterdam Shopping
From: Rotterdam Travel Guide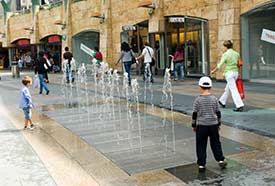 ABOVE: Two boys admire a fountain in the Beurstraverse, a sunken shopping street (nicknamed the "Shopping Gutter") for pedestrians in downtown Rotterdam.
Shopping districts and stores

For mainstream shopping, Rotterdam's city center is the place to go: You'll find Rotterdam's top department store, de Bijenkorf, along with international brands like C&A, H&M, and Sephora, along with specialty stores that deserve special mention:

De Zonnewijzer is on Korte Hoogstraat, just east of the Blaak-Coolsingel intersection. It sells wooden toys, nursery accessories, clothes for children and mothers-to-be, craft items, and school supplies.

Meijer & Blessing, a Rotterdam institution since 1813, specializes in Märklin model trains, radio-controlled cars, products for model-builders, and other hobby items.

De Groene Passage is a cooperative of businesses that sell organic, natural, or fair-trade products. The eight stores in the passage range from Gimsel (an organic supermarket) to Van Binnen (a purveyor of ecologically-correct home furnishings).
Other local shops and galleries of note include:
For more suggestions, see the Rotterdam tourist office's Shopping page.
Public markets
Rotterdam has several public markets, but the one that gets the most attention is the eye-popping Markthal, which opened in 2014. The Market Hall is located in a large space beneath an innovative arch-shaped apartment building. (See the Markthal's official Web site for more information in Dutch.)
Next page: Hotels, hostels
---
---
---
6th inset photo: Martin De Wit.
7th inset photo: Netherlands Board of Tourism and Congresses.