Rotterdam Tourist Information
From: Rotterdam Travel Guide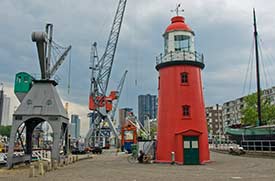 ABOVE: Maritime cranes and an old lighthouse in the Leuvehaven, next to the Harbor Museum.
Rotterdam tourist offices

Rotterdam Tourist Information has offices at Rotterdam Centraal Station, Coolsingel, and the Hook of Holland. The offices provide the usual tourist-bureau amenities: maps, brochures, answers to questions, and the Rotterdam Welcome Card, which offers 1, 2, or 3 days of travel on public transit and discounts at various local attractions.
Also check Visit Holland's Rotterdam pages before your trip. (Visit Holland, a.k.a. Holland.com, is the official Netherlands Board of Tourism & Congresses Web site.)
Maps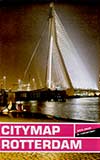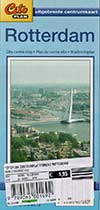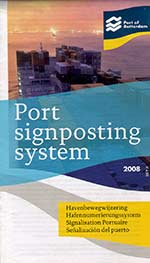 We strongly recommend these three maps:
Citymap Rotterdam is free from Rotterdam Marketing (see above). The pocket-size map shows landmarks, transit lines, and suggested walking tours. The back side of the map has general tourist information for Rotterdam.

Citoplan Rotterdam's inexpensive map of the city center covers more territory than Cityplan Rotterdam does, and it's more useful for finding specific streets and landmarks.

The Port of Rotterdam's Port Signposting System, which shows the city, river, and towns from east of the Kinderdijk windmills all the way to the North Sea. (The map makes a great souvenir and costs only a few euros.)
Pocket guide
The local tourist office publishes a free Rotterdam in Your Pocket guide. If you'd like to read it before your visit, you can download the booklet as an 8-Mb PDF file here.
Back to: Rotterdam Index
---
---
---