Bercy Village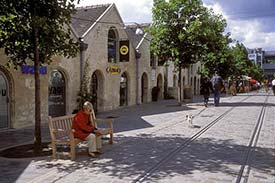 ABOVE: In Bercy Village, 19th Century wine warehouses have been converted into stylish shops and restaurants. The tracks were once used to move wine barrels in and out of the warehouses.
By Durant Imboden
Bercy Village has been described as a "faux French village in the heart of Paris," but there's nothing faux about it: The urban-renewal project in the 12th arrondissement, next to the modern Parc de Bercy and the Seine, consists largely of small wine warehouses from the late 19th Century that have been saved from decay by conversion into shops and restaurants. It's a great place to spend a few hours, especially if you have more than a passing interest in urban design, architecture, or retailing.
The project had its genesis in 1990, when the city of Paris staged an architectural competition for the redevelopment project. The winning firm, Valode & Pistre, designed a plan that consisted of the restored warehouses with modern, taller buildings behind.
Instead of turning the old cobblestoned lanes into a covered shopping center, as its rivals wanted to do, Valode & Pistre proposed leaving the streets open with a network of awnings to protect visitors from the weather.
Although Bercy Village's retailing milieu leans toward the upscale, it isn't just a shopping mall for yuppies. Our own favorite store, Animalis, is a pet-lover's paradise with everything you might need for your dog, cat, bird, or fish.
You'll also find a cinema, art galleries, beauty parlors, and several restaurants and cafés. Allow time for a visit to the Parc de Bercy next door. For a complete list of shops and other establishments in French, see Bercyvillage.com.

How to reach Bercy Village:
Ride any Ligne 14 Métro train to Cour Saint-Émilion. (This is the new "Météor" line between the Gare de Lyon and the Bibliothėque National de France.)
Bercy Village is open daily from 11 a.m. to 9 p.m.
Next page: More photos of Bercy Village
---
---
Top photo copyright © Paris Tourist Office. Photographer: Arnaud Terrier.
Inset photo copyright © Paris Tourist Office. Photographer: Amélie Dupont.