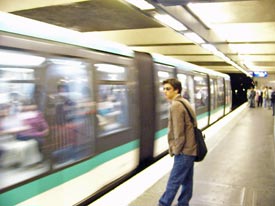 ABOVE: A Métro rider eyes an arriving train. INSET: Art Nouveau entrance to the Abbesses station in Montmartre.
Walking is the most scenic way to explore Paris. But for longer journeys, the Métropolitain de Paris is the preferred mode of transportation. With 14 lines, 380 stations, and more than 211 km or 131 miles of track, the Paris underground is Europe's second-largest subway system--and that's without including the RER, a commuter-rail network that is integrated with the Métro.

Although the Paris Métro is one of the oldest subways in the world (it opened in 1900), it compares favorably with newer counterparts in other cities. Cars are modern and clean, there's little waiting time between trains, crime is minimal except for pickpockets, and you won't find a quicker way to get around Paris.
For more information on fares, tickets, and riding the trains, go to page 2 or use the "In this article" links below.
Next page: Buying tickets