Paris > Food > Boulangerie au Grand Richelieu > Photos
Boulangerie Patisserie Au Grand Richelieu
Page 2
Continued from page 1
---
---
More photos: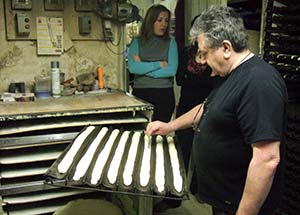 Claude Esnault, owner of the Boulangerie Au Grand Richelieu, makes diagonal cuts in baguette dough with a special baker's razor blade. (Members of the Meet the Parisians at Work tour, including the young Frenchwoman in the background, got to try their hands at bread-slashing.)
---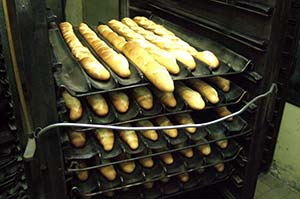 The baguettes are baked on blackened steel trays that slide into large wheeled carts, which in turn are rolled into a high-temperature, steam-injection oven.
After 20 minutes of baking, M. Esnault opens the oven, drops a slender steel bar into two holes at the end of the baking cart, and pulls the hot metal cart from the oven. (Amazingly, his bare arms show no obvious scars from burns after 38 years of maneuvering baking carts in and out of a hot oven in the tight confines of a nearly 200-year-old bakery.)
---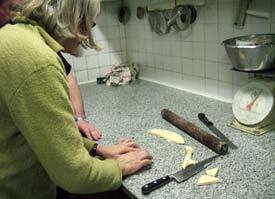 Croissants, gateaux, and other pastries are made downstairs in an area that's reached by climbing down a steeply angled ladder. Here, Cheryl Imboden rolls a mini-croissant under M. Esnault's supervision.
---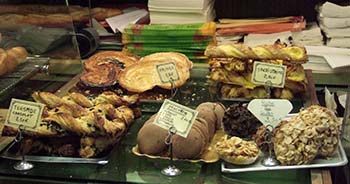 Before leaving the Boulangerie Patisserie Au Grand Richelieu, you'll almost certainly want to spend your daily budget and calorie allowance at the well-stocked pastry counter.
---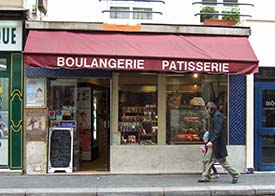 As you say farewell to the bakery, memorize its appearance for your next visit. (After you've tried the sacristains, the Opéra cake, and the tarte tatin, you'll surely want to come back for more.)
Back to: Boulangerie Patisserie Au Grand Richelieu
---
---
---