Paris > Churches > Notre Dame restoration
Notre Dame Cathedral Restoration
As work continues to rebuild the fire-damaged Cathédrale Notre-Dame de Paris, life goes on for locals and tourists.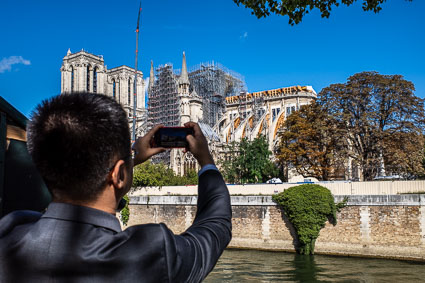 ABOVE: A tourist snaps a photo of the Cathédrale Notre-Dame in late September, 2019.
By Durant Imboden - October 23, 2019
The Cathedral of Notre Dame may have been devasted by fire on April 15, 2019, but it looks surprisingly intact--at least from outside and at ground level. (The roof, which burned and rained molten lead into the building's interior, is another story.)
In late September, 2019, we took a series of photos to show the cathedral's current status. They're published below, along with links to articles about the restoration process.
Tip: While Notre Dame is being rebuilt, you can still enjoy cathedral visits in central France.
For example, the Basilica Cathédrale de Saint-Denis--shown in the inset photo--is easy to reach by Paris Métro Line 13. (It's the burial place of French monarchs.)
If you're willing to venture a bit farther by train, you can enjoy cathedrals in cities or towns such as Beauvais, Chartres, and Rouen.
---
Photos
BELOW: Life goes on in the square in front of Notre Dame Cathedral, although tents and construction barriers keep prospective worshippers and tourists away from the church.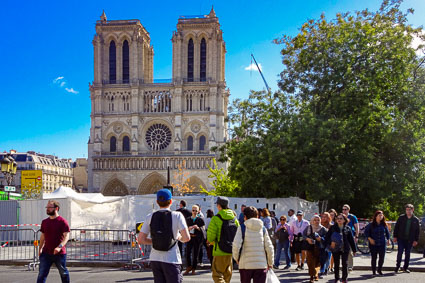 ---
BELOW: Tourist boats and the Batobus water bus continue to ply the Seine alongside the damaged cathedral.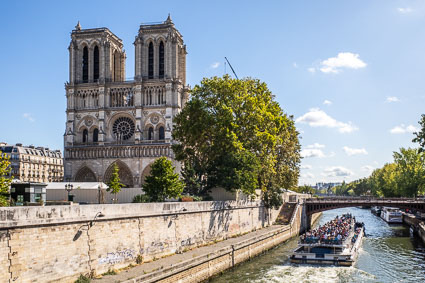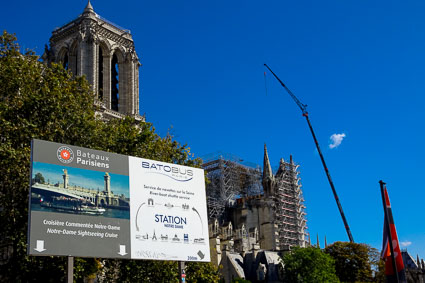 ---
BELOW: From the Left Bank and the Pont de la Tournelle, you can see scaffolding and wooden supports along the cathedral's outer walls.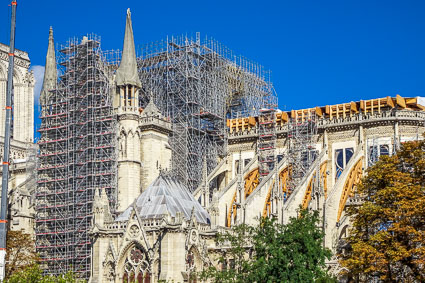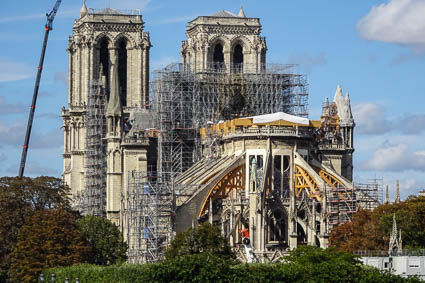 ---
BELOW: It's a testament to the skills of the Sapeurs-Pompiers de Paris, a.k.a. the Paris Fire Department, that none of the adjacent buildings (some of which are quite close to the Cathedral) were singed or destroyed.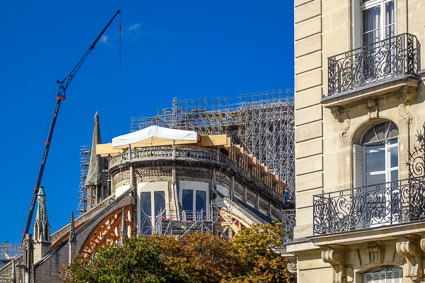 ---
BELOW: On the north side f the cathedral, a hydraulic crane lifts materials and supplies to workers on the scaffolding.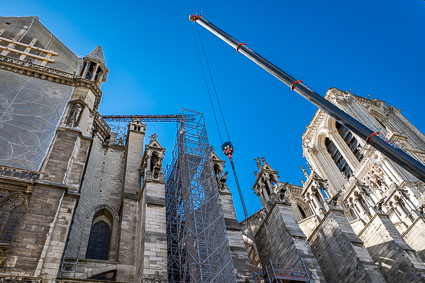 ---
BELOW: The restoration process hasn't kept tourists and refreshment vendors away.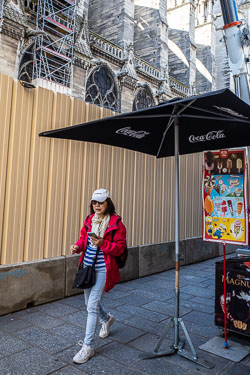 ---
BELOW: This stone drainspout was unscathed by the fire.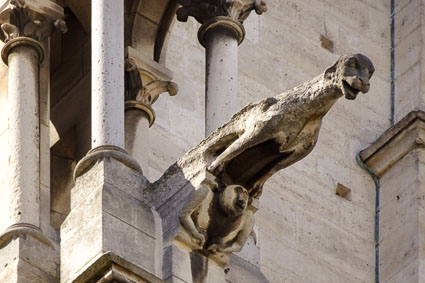 ---
Related Web links
Inside Notre Dame: a blow-by-blow account of the restoration process
The Art Newspaper describes what's been happening in the five months since the fire. (The article's dateline is September 30, 2019.)
Notre-Dame Cathedral "not yet totally saved" six months after devastating fire
France 24 describes the status of reconstruction as of mid-October, 2010.
Notre Dame's cathedral fire could ease France's shortage of artisans
According to Deutsche Welle, every cloud of smoke has a silver lining.