Paris > Transportation > Orly airport transportation
Paris Orly Airport Ground Transportation
How to reach central Paris from Orly Airport (ORY) by train, bus, taxi, or shuttle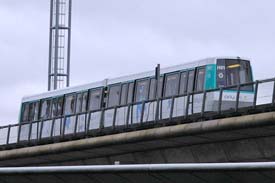 ABOVE: An Orlyval train arrives at Orly-Sud. INSET BELOW: Airport sign for the Orlyval train and Orlybus, which connect to Paris RER and Métro stations.

By Durant Imboden

Need a hotel near Orly Airport?

Europe's no. 1 hotel site, Booking.com, has guaranteed lowest available rates.

Until Charles de Gaulle International Airport opened in 1974, Orly Airport (ORY) was the main aviation gateway to Paris. It's still the second-most important airport in the Paris region, with dozens of airlines connecting to cities throughout Europe, the Middle East, and Africa.

Orly is located 14 km or about 9 miles south of central Paris, on the opposite side of the city from Charles de Gaulle.

The airport has two terminals, Orly-Sud and Orly-Ouest, both of which are smaller and easier to navigate than their counterparts at CDG. Orly has good transportation into the city, and it's especially convenient if you're staying on the Left Bank.

Ground-transportation options include the Orlyval train, several bus lines, taxis, and shuttle vans. For details on each, including Web links, continue reading below:
---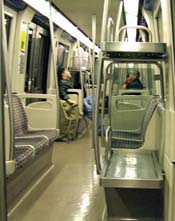 ABOVE: Orlyval trains have racks for your luggage. INSET BELOW: An Orlyval train waits at the south terminal.

RER B: Driverless Orlyval shuttle trains connect Orly Airport's Sud and Ouest terminals to the Antony station of the RER B line, where you can transfer to an RER train into the heart of Paris. Your combined ticket ticket will be valid on the Orlyval train, the RER, and the Métro.
Buy your ticket at the RATP's Orlyval/Orlybus booth in the terminal, then go up the escalator to the elevated train station. Keep the ticket with you throughout the journey. (You'll need it for the turnstiles at Antony and to exit the RER.)
If you're connecting from Orly to Charles de Gaulle Airport, buy an Orlyval/RER ticket to CDG-Roissy and board a B3 train at the Antony RER station. (Other B trains don't go to CDG.)
When traveling to Orly from Paris on the RER, board a train with the final destination of Saint-Rémy-lès-Chevreuse and transfer to the Orlyval train at the Antony station.
RER C: A "Paris par le train" bus connects Paris-Orly South (Entrance F) and Paris-Orly West (Entrance G Arrival Level) with the Pont de Rungis station of RER Line C. The bus ride takes 10 minutes, and RER Line C will get you into the city in 30 to 45 minutes or so, depending on your destination.
Notes:
Orlyval trains depart every 5 to 7 minutes from 6 a.m. until 11 p.m., and total travel time to central Paris is 35 to 40 minutes.

The 1- to 5-zone Paris Visite pass is valid on Orlyval and the RER. (The cheaper 1- to 3-zone Paris Visite pass does not cover airport transportation.) (The weekly or monthly Navigo pass is not valid on Orlyval.)

For your return trip, you can buy tickets all the way to Orly at any RER or Métro station.
---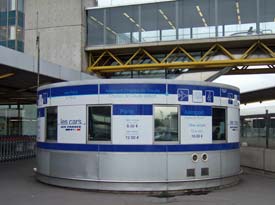 ABOVE: The outdoor ticket office for Les Cars Air France at Orly-Sud terminal. INSET BELOW: An Orly Airport control tower, and the RATP's articulated Orlybus.

Le Bus Direct:
Line 1 of Le Bus Direct Paris Aéroport (formerly Cars Air France) connects the Sud and Ouest terminals with the Gare Montparnasse, Eiffel Tower, Trocadéro, and Étoile Champs Élysées every 20 to 30 minutes from around 5 a.m. until late at night. Minimum travel time is 20 to 50 minutes, depending on your destination.

Line 3 runs between Orly and CDG, with departures every 20 to 30 minutes and an average travel time of 7o to 80 minutes.

Buses are air-conditioned and have luggage compartments where the driver will stow your bags.
For current fares and timetables, visit Le Bus Direct.
Orlybus:

RATP's Orlybus is a long articulated city bus that runs from the Sud and Ouest terminals to the Métro and RER stop at Denfert-Rochereau.
Buses depart every 8 to 15 minutes from early in the morning until late at night, and the trip takes about 25 to 30 minutes.
The fare for a paper ticket is €9.50. Buy your ticket at the RATP desk in the terminal or from the driver. (On this route, you'll need to haul your bags into the bus and pile them on the luggage rack.)
You can save money if you put the fare on an RATP stored-value card such as Navigo Easy: the fare for electronic tickets is only €8,30.
Shuttle bus to RER Line C:
A shuttle bus runs connects the Sud and Ouest terminals with the Pont de Rungis-Aéroport d'Orly station of RER Line C, where a commuter train will take you along the Left Bank to the Gare d'Austerlitz, St-Michel/Nôtre-Dame, the Invalides, and the Eiffel Tower.
Other RATP services from Orly:
For up-to-date information on all public bus and train services from Orly, see this page at the RATP Web site and scroll down to the Orly section.
Use your Paris Visite Card:
The 1- to 5-zone Paris Visite card is good on all of the services above, except for Les Cars Air France. (The cheapest Paris Visite pass, which covers only Zones 1 to 3, does not cover airport transportation.) The Navigo pass ("all zones") is also valid.
---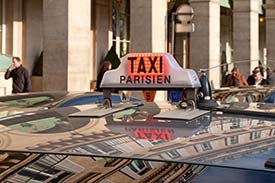 ABOVE: An occupied Paris taxi. (When a cab is free, the sign is illuminated in green.)
Taxis:
As of July, 2020, the official flat rate from Orly to the city center is €32 (Left Bank) or €37 (Right Bank). Tipping is optional but customary; a few euros should be adequate.
Driving time can be anywhere from 30 to 90 minutes, depending on traffic.
See our Paris Taxis article for more advice on traveling by cab.
Airport shuttle vans:
Paris Airport Shuttle will take you to or from your hotel in central Paris for 17 to 40 euros per person (depending on the number of travelers in your party) with a €3 surcharge for trips early in the morning or at night. Transportation is in shared seven-passenger vans. Book online at least 24 hours in advance, and you'll receive a voucher by e-mail or fax.
A competitor, Parishuttle, offers rates of €16 to €25 in eight-passenger vans.
Potential money-saving option: If you'd like to pay in your own currency, you can prebook Orly airport shuttles with our tour partner, Viator Paris.
Viator's rates are sometimes--though not always--lower than the shuttle company's own prices. Click here for rates.
---
---