Paris > Transportation > CDG airport transportation
Paris Charles de Gaulle Airport (CDG) Ground Transportation
How to reach central Paris from CDG Roissy by train, bus, taxi, or shuttle.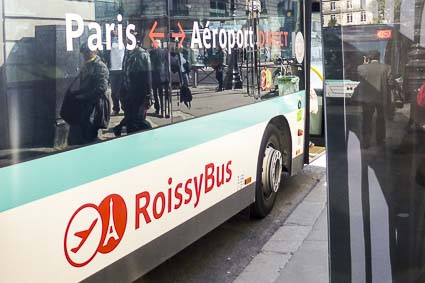 ABOVE: A RoissyBus from Charles de Gaulle Airport arrives in central Paris.
Need a hotel near CDG Airport?
Europe's no. 1 hotel site, Booking.com, has guaranteed lowest available rates.
By Durant Imboden
Charles de Gaulle Airport (CDG) has connections to more foreign destinations than any other airport in the world. Unless you're arriving in Paris on a budget or domestic airline, you'll probably fly into CDG, which is located 23 km or 14 miles from central Paris in the suburb of Roissy.
You have a number of options for reaching the city from Charles de Gaulle Airport. The cheapest is the RER train, which has several stops in central Paris and connects with the Métro system. This is a good choice when you're traveling with light luggage. Roissybus is another inexpensive option if you're staying near the Ópera Garnier.
On the other hand, if you're loaded with bags, we'd suggest an airport shuttle or taxi.
For information on each type of ground transportation, see the sections below.
Note: Although we update this article regularly, fares are always subject to change, so click the related links to visit the official Web sites if you need to check prices.
---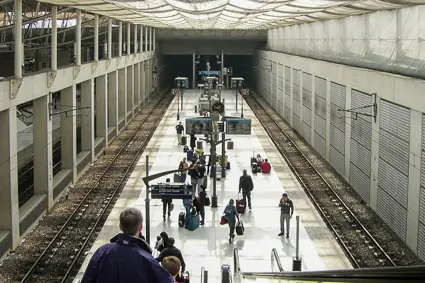 ABOVE: RER platforms at the railroad station (gare) in Terminal 2.
The RER is a regional train network with stops at major railroad stations and Métro hubs in Paris. From the RER platforms at Charles de Gaulle Airport, you can reach the Gare du Nord, Châtelet-Les Halles, Saint-Michel, Luxembourg, and other stations of RER Line B.
Connections to the Métro network and RER Line C (which runs along the left bank of the Seine) make it easy to get within 500 meters of any hotel in Paris, although you may want to take a taxi or shuttle instead of the Métro if you're burdened with luggage and arriving in the city center at rush hour.
How to ride the RER: After you've retrieved your bags and gone through customs, look for signs with a train symbol. Follow the arrow for "RER."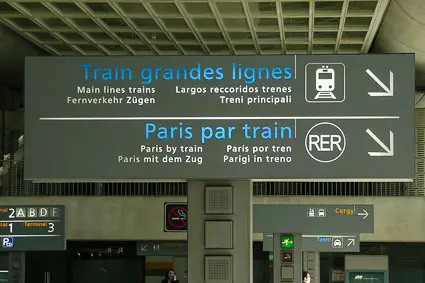 CDG has two RER stations: one for Terminals 1 and 3, and the other at Terminal 2. The terminals are connected by a free CDGVAL shuttle train.
From an "Île de France" ticket-vending machine. (These machines used to require credit cards with PINs, but they're now more forgiving to foreign visitors.)

At the ticket counter, where you can pay with cash or a credit card. (Caveat: The ticket office is closed late at night.)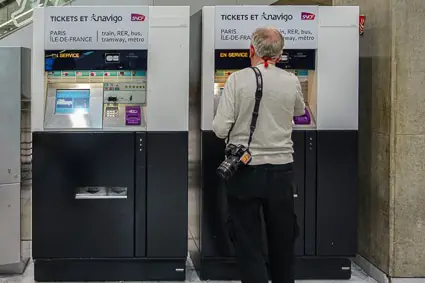 Notes:
Ihe adult single fare between CDG and Paris is €11,45 for adults and children aged 4 or older. Children under 4 travel free

The Paris Visite zones 1-5 travel pass for tourists ("Paris and Île de France") and the Navigo "all zones" weekly or monthly travel pass are valid for transportation to and from Charles de Gaulle Airport. You can buy either pass at any RER ticket window at CDG.

(Please note that the "Paris Centre" version of the Paris Visite pass is good for only Zones 1-3 and does not cover airport transportation.)
Once you have your ticket, follow the signs to the platforms.
When you've descended the escalator, check the electronic signboard for train departure times and platform numbers.
Trains normally depart every 10 to 20 minutes between 5 a.m. and midnight, with an average travel time of about 30 minutes to the city center.
Tips:
If possible, take an express (direct) train, even if it means waiting a few minutes longer on the platform. Local trains stop at 10 suburban stations on their way into the city, adding 15 minutes or more to the normal 30-minute trip time.

If you're traveling with anything larger than a carry-on suitcase, look for a bicycle compartment behind the driver's cockpit. (These compartments have their own set of doors.)

You'll have to stand during the trip into Paris if you're in the bicycle compartment, but you'll be out of other passengers' way and you'll find it easier to get off if the train gets crowded.
Watch out for pickpockets, who prey on naive or jetlagged tourists.

On trips to the airport, be sure that your train's destination is "Charles de Gaulle-Roissy." (B3 trains go to CDG; B5 trains split off for another suburb.)

Allow plenty of time for journeys to the airport, just in case you're delayed or get lost in the terminals.

(On a recent Sunday-morning trip, our journey required two train changes between Saint-Michel and the airport because of track maintenance. Fortunately, the RER did a great job of posting uniformed employees on the platforms to guide passengers to the right connecting trains.)
Other trains from Charles de Gaulle Airport:
High-speed TGV trains connect CDG with cities in France and neighboring countries. To plan your journey on the French National Railways, visit SNCF.com.
---
RoissyBus: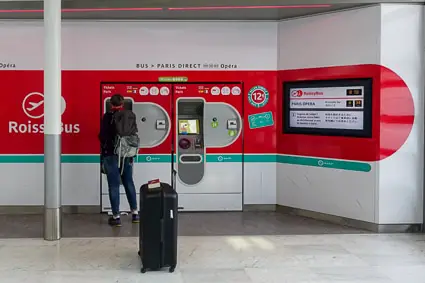 RATP, the Paris regional transport authority, operates this coach between CDG Terminals 1, 2, and 3 and the rue Scribe by the American Express office and the Opéra Garnier. (Take the RoissyBus if you're staying at one of the many hotels in the Opéra district.)
Buses run every 15 to 20 minutes, with an average travel time of 60 to 75 minutes.
The one-way fare is €16,20 if you buy your ticket from a vending machine at the airport. (Alternatively, you can use an RATP stored-value card such as Navigo Easy, which also works with other forms of public transportation in Paris.)
Remember to validate your ticket or card when you board the bus. If you're dashing to the bus at the last minute, you can pay the driver.
Note:
RATP's 1- to 5-zone Paris Visite pass is valid on Roissybus, but the cheaper Paris Visite pass for Zones 1-3 only does not cover airport transportation.

Travel time is nominally 60 to 75 minutes but can be shorter or longer, depending on traffic.
RATP Buses 350 and 351:
Bus 350 is a public transit bus that links CDG with the Port de la Chapelle in Paris.
Bus 351 runs between CDG and Nation in Paris.
Both buses start and finish their routes at various locations in the airport. Fares are zone-based and start at €2,10. Buy single tickets from an RATP vending machine, pay with a stored-value card like Navigo Easy, or use a valid pass such as the 1- to 5-zone Paris Visite card.
For up-to-date information on RATP buses, see the the RATP's Airport Tickets page.
---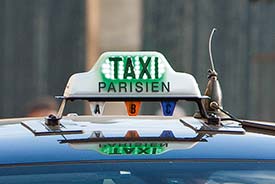 Taxis:
When we last checked, the flat fee for a taxi from CDG to central Paris was €55 (Right Bank) or €62 (Left Bank). Disneyland Paris will cost you €75 to €95.
Tipping is optional but customary; a few euros should do the trick. (When in doubt, round up the fare.)
Allow 45 minutes to an hour for the trip.
Signs in the terminal will guide you to the nearest taxi stand, where you'll need to wait in line for a cab.
For more information on using les taxis parisiens, including links to cab telephone numbers and an online fare calculator, see our Paris Taxis article.
Private airport transfers:
Viator, our tours and activities partner, offers private transfers by car or van. Several options are available, including direct service to Disneyland Paris.
Shared shuttle vans:
Shuttle companies offer door-to-door service between Charles de Gaulle Airport and city addresses. Travel is in shared vans or minibuses, so the trip may take longer than going by taxi, although you'll avoid standing in line while waiting for a cab.
Parishuttle charges €16 to €25 per adult passenger, depending on how many people are traveling together.
Paris Airport Shuttle charges €48 for one person and €7 for each additional passenger.
Both companies can supply private transfers at a higher cost.
Please note:
Make shuttle reservations at least 24 hours in advance. (Earlier is better at busy times of the year.)

A reader tells us that PariShuttle (see above) insists on collecting passengers four hours before flight departure and will not modify its pickup time.
---
---